Chemical reaction Involved in Laser tooth whitening
Dr. Goswami — One of the best tooth whitening Dentist in Delhi, welcome People looking for cost effective cosmetic dental makeover, smile designing & enhancement treatment through Laser speed tooth whitening or Home Bleaching systems in New Delhi.
We utilize Laser speed Tooth whitening technologies for our entire in-office tooth whitening treatments.
Zero Pain – Most reliable – least Sensitivity – Highest success rate
Laser teeth & tooth Whitening with new L.E.D technology, is one of the most advanced, widely accepted and effective tooth whitening methods in current use. It has transformed the appearance of thousands of our patients. Even for those whose teeth are deeply stained, yellowed or gray in colors.
L.E.D tooth whitening offers outstanding results — without overheating teeth and leaves Teeth Whiter, Glossier & Shinier…………..
We are fully qualified teeth whitening dentist in Delhi and have whitened over 1500 fabulous smiles!!!!!!
Since yr. 2000.. ( 20 yrs in practice ).
As most of you know teeth whitening as a process of bleaching your teeth in attempt to improve the teeth appearance. A tooth bleaching is a chemical process that usually uses oxidizing agent to remove discoloration stains from the teeth.
So what is the chemistry magic behind teeth whitening  ?
When the water reacts with carbamide peroxide (an active ingredient in some tooth whitening & bleaching solutions) it releases hydrogen peroxide, which in turn whitens the teeth. Some other teeth whitening gels contain directly hydrogen peroxide, which serves as a bleaching agent.
The hydrogen peroxide goes through the teeth surface and oxidizes the organic composites (these composites actually cause the teeth staining) that exist in the tooth enamel. The oxidation of the organic composites results in smaller remaining molecules that are much lighter in color compared to the original organic composites.
Many different factors can cause teeth discoloration including, but not limited to consuming certain foods and beverages like coffee, tea, soda drinks, red wine, and berries, discoloration caused by aging, tooth damage, and more.
In-office Tooth whitening treatment in Delhi, India
Before the treatment, the Cosmetic and smile designing Dentist, will examine the patient: taking a health and dental history (including allergies and sensitivities).
Observe hard and soft tissues, placement and conditions of restorations, and sometimes dental x-rays are needed to determine the nature and depth of possible irregularities. If this is not completed prior to the whitening agents being applied to the tooth surface, excessive sensitivity and consequences may occur.
The whitening shade guides are used to measure tooth colour. These shades determine the effectiveness of the whitening procedure, which may vary from two to seven shades.
These shades may be reached after a single in office appointment, or may take longer depending on the individual. The effects of bleaching can last for several months, but may vary depending on the lifestyle of the patient.
Consuming tooth staining foods or drinks that have a strong colour may compromise effectiveness of the treatment. These include food and drinks containing tannins such as; coffee/tea, red wines, curry etc.
Power or light-accelerated bleaching, uses light energy which is intended to accelerate the process of bleaching in a dental office.
The ideal source of energy should be high energy to excite the peroxide molecules without overheating the pulp of the tooth.
L.E.D. Tooth Whitening
The L.E.D machine's L.E.D. wavelength output is synchronised to the specially blended whitening gel.
This increases efficiency and minimizes the amount of energy required to produce maximum whitening. This effectively shortens treatment times, increases effectiveness and eliminates the heating of teeth that can result in post-operative sensitivity.
Lights are typically within the blue light spectrum as this has been found to contain the most effective wavelengths for initiating the hydrogen peroxide reaction.
A power bleaching treatment typically involves isolation of soft tissue with a resin-based — light-cured Gum Barrier, application of a professional dental-grade Hydrogen-peroxide whitening gel (25–38% hydrogen peroxide), and exposure to the light source for 6–15 minutes.
Recent technical advances have minimized heat and ultra-violet emissions, allowing for a shorter patient preparation procedure.
For any whitening treatments it is recommended that a comprehensive examination of the patient is done including the use of radiographs to aid in the diagnosis of the current condition of the mouth, including any allergies that may be present.
The patient will need to have a healthy mouth and free of periodontal disease or caries and to have had a debridement/clean done to remove any tartar or plaque build-up.
It is recommended to avoid smoking, drinking red wine, eating or drinking any deeply coloured foods after this as the teeth may stain considerably straight after treatment.

The procedure is entirely safe, non-invasive and is the only system in India which guarantees little or least sensitivity with GREAT results!
This procedure is very popular dental procedure these days!
The average person's teeth go 7-10 shades lighter!
one visit … one hour.. get your Beautiful smile..
Get pearly white teeth in just 30 minutes..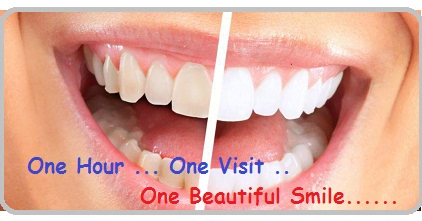 For more information go to :