Repeat Root Canal Treatment
.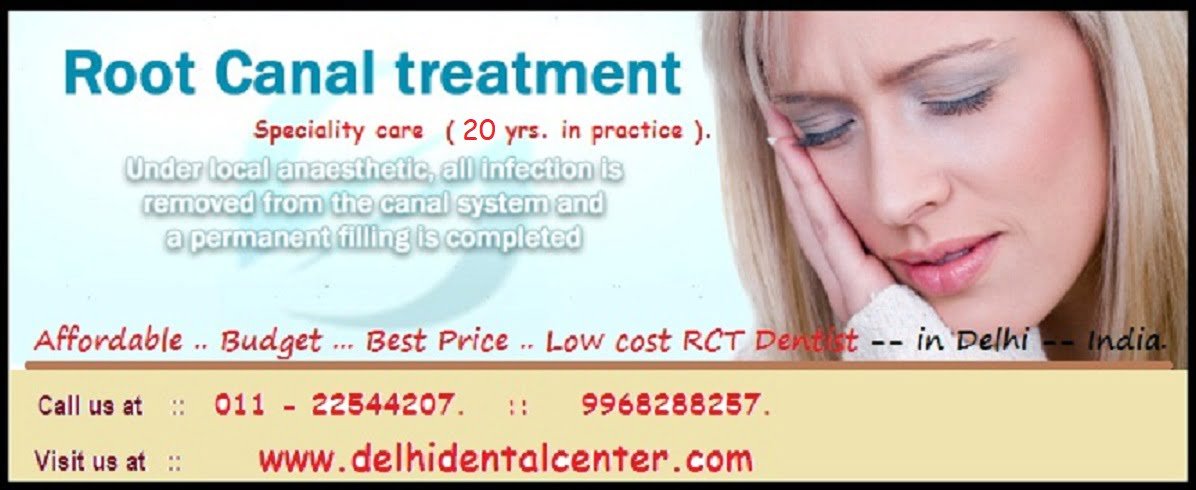 .
Repeat Endodontic Surgical Root Canal Treatment Procedure in Delhi India.
Dr. Goswami's Delhi Dental center – root canal treatment clinic in East Delhi India, welcome people who are suffering from pain or swelling around a previously root canal treated tooth or need a re-treatment / repeat RCT or need an apicoectomy procedure for your infected tooth or need a retro-filling for a root canal treated tooth in East Delhi, India.
We welcome you to our painless root canal treatment speciality dental clinic in East Delhi, India. With all the latest endodontic treatment machines like endomotor, apex-locator, irrigation devices, obutra filling techniques, we will be able to give you the high quality, world class dental service you may be looking for.
Dr Amit Goswami and Dr Vandana Goswami, has a clinical experience of more than 23+years in dentistry in India. they normally need a single visit for doing Apicosectomy, Surgical Endodontic treatment, repeat an infected root canal treated tooth in Delhi India.
.
You should expect to be able to go to your work the same day after having your painless root canal treatment procedure done.
.
All our root canal treatment / RCT procedures are done under strict sterilization and under local anesthesia to minimize any pain or discomfort.
.
All our dental root canal treatment products are CE and ADA certified.
.
The course of treatment described here is one of several options available. Dr Amit Goswami and Dr Vandana Goswami will advise you on the best solution for you, given your specific condition and individual needs.
.
Steps for repeat Root Canal Treatment Procedure –
.
1st Step : Dental Consultation, Examination and X-Rays.

Root canal specialist dentist in East Delhi – Dr Amit Goswami and Dr Vandana Goswami will do dental examination and will take your x-rays.
They will then study your x-ray and will check the feasibility for a retreatment or apicosectomy or retrofilling for your root canal treated tooth and tell you all other alternative treatment procedures you can have.
Duration – 20 to 30 minutes.
2nd Step : Gum Tissue Opened – infected Tissue Removed.
We will make the area numb and then the gum tissue is reflected and we are able to see the infected bone and decayed root part. We do endodontic surgery at this stage at our dental clinic in Delhi. Remove the infected part and make the area clean.
Duration – 30 to 60 minutes.
3rd Step : Root End Resected — Root End Filled.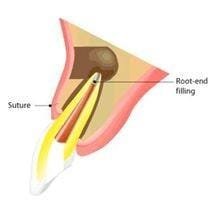 Once the Endodontist at our root canal clinic in Delhi, is confirm that all the infected part has been removed and all the area is clean, then we will seal the root tip surface and then put the gums back in place and put stitches to keep the gum tissue in place and for healing to take place.
Duration – 30 minutes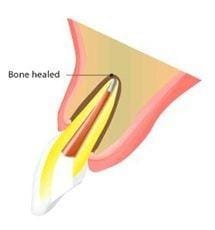 We will check the sutures and the area around and will remove your stitches in a week's time. Now that the surgery has been completed over the next few months the bone will heal and all signs of disease will disappear.Do your usual dental hygiene to keep the tooth and gum around it clean and healthy.
Duration – 30 minutes.
Reviews from our patients
Please feel Free to ask us any further questions about your Root Canal treatment or for a Free R.C.T. Consultation.
Dr. Goswami, the Delhi dentist, owner of root canal endodontic treatment clinic in East Delhi India, welcome people to have a detailed consultation for their destructed or tooth with deep cavities or exposed pulp root canal chambers and their reconstruction & rehabilitation with immediate single sitting one visit painless root canal endodontic therapy with post and core build-up of the broken tooth area followed by a Zirconia CAD CAM designed metal free all porcelain full ceramic full coverage dental crown on the involved tooth.
.
Same Endodontist – Affordable cost – Same location since last 23+ years. (est. 2000).
That's the real beauty of having Root Canal Treatment from Delhi Dental Center.
.
.
Feel free to ask us for a free consultation
.
Dr Amit Goswami & Dr Vandana Goswami, Owners of Delhi Dental Center, one of the few painless root canal specialist dentist in East Delhi, welcome people looking for affordable budget best price low cost RCT, Root Canal Treatment, Endodontic procedures in East Delhi's nearby areas like, Indrapuram, Laximi Nagar, Patpar ganj, Pahar Ganj, Karol Bagh, IP Extension, Mayur vihar, Dilshad Garden, Preet Vihar, Anand Vihar , Jagriti Enclave, Shahadara, Shibabad, Noida, Greater Noida, Gaziabad, gurgaon, West Delhi, Central Delhi, Dwarka – Delhi, India.
Repeat Root Canal Treatment Repeat Root Canal Treatment Repeat Root Canal Treatment Repeat Root Canal Treatment Repeat Root Canal Treatment Repeat Root Canal Treatment Repeat Root Canal Treatment Repeat Root Canal Treatment Repeat Root Canal Treatment Repeat Root Canal Treatment Repeat Root Canal Treatment Repeat Root Canal Treatment Repeat Root Canal Treatment Repeat Root Canal Treatment Repeat Root Canal Treatment Repeat Root Canal Treatment Repeat Root Canal Treatment Repeat Root Canal Treatment Repeat Root Canal Treatment Repeat Root Canal Treatment Repeat Root Canal Treatment Repeat Root Canal Treatment Repeat Root Canal Treatment Repeat Root Canal Treatment Repeat Root Canal Treatment Repeat Root Canal Treatment Repeat Root Canal Treatment Repeat Root Canal Treatment Repeat Root Canal Treatment Repeat Root Canal Treatment Repeat Root Canal Treatment Repeat Root Canal Treatment Repeat Root Canal Treatment Repeat Root Canal Treatment Repeat Root Canal Treatment Repeat Root Canal Treatment Repeat Root Canal Treatment Repeat Root Canal Treatment Repeat Root Canal Treatment Repeat Root Canal Treatment Repeat Root Canal Treatment Repeat Root Canal Treatment Repeat Root Canal Treatment Repeat Root Canal Treatment Repeat Root Canal Treatment Repeat Root Canal Treatment Repeat Root Canal Treatment Repeat Root Canal Treatment Repeat Root Canal Treatment Repeat Root Canal Treatment Repeat Root Canal Treatment Repeat Root Canal Treatment Repeat Root Canal Treatment Repeat Root Canal Treatment Repeat Root Canal Treatment Repeat Root Canal Treatment Repeat Root Canal Treatment Repeat Root Canal Treatment