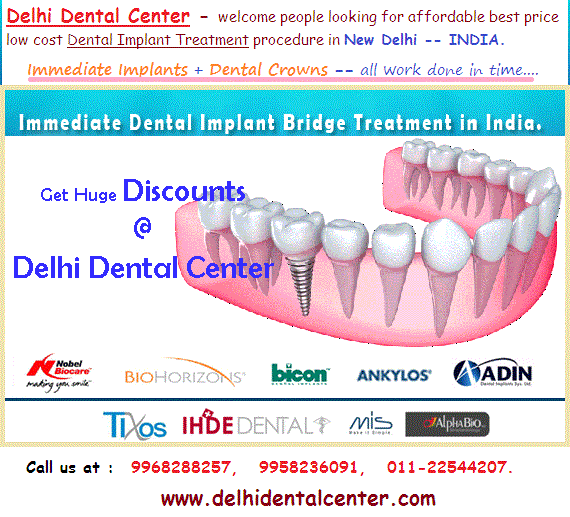 Get your new Smile with Immediate Loading — Immediate function All-on-Six Dental Implants…….
At Certified Dental Clinic by authorized Dentist in Delhi India…………
Delhi Dental Center in India, welcome people looking for Affordable Best Price Low Cost Cheapest Full Mouth Rehabilitation & Reconstruction with All-on-6 Dental Implant Treatment in India, which is established in 2000 ( 14 yrs old ).
Six Implants per jaw……..
This treatment procedure provides high-quality restorative results in the shortest time possible.
Get new set of teeth with in just 10 to 12 days time……………
Immediate Loading – Immediate Function
All different Treatment options available —
• All-on-6 with Porcelain fused to metal crown & bridge work.
• All-on-6 with Zirconia — Metal free crown & bridge work.
• All-on-6 with Hybrid Teeth.
Affordable Best price low cost All-on-6 ……guarantied
Appointments – The appointment time is flexible and we will give you your preferred time slot as per your preference.
For details and more information regarding treatment needs you can contact —
Dr. Amit Goswami & Dr (Mrs.) Vandana Goswami
DELHI DENTAL CENTER
76,Radhey Puri, Extension-1, Opp. Subway.
Near Jagat Puri Red Light – Preet Vihar Metro Station.
EAST – DELHI — 110051.
Phone. – 0091 — 9968288257.
– 0091 — 22544207.
Website. — www.delhidentalcenter.com
Email. – delhidentalcenter@gmail.com