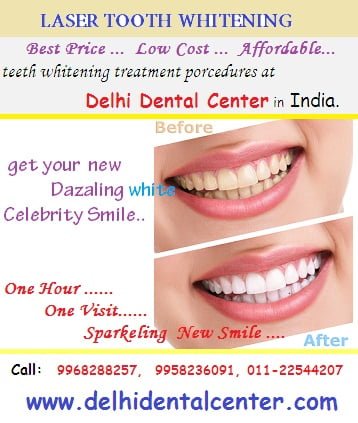 Dr. Amit Goswami, owner of Delhi Dental Center welcome people looking for Dental Laser Tooth Whitening treatment procedure in Delhi India.
Tooth discoloration and staining is a relatively common problem. Teeth are porous and are therefore not stain resistant. Your lifestyle and the aging process can stain and darken your teeth. Many things we do on a regular basis can contribute to stained teeth, such as drinking coffee, tea, soft drinks and red wine or smoking.
You may feel that your teeth are too discolored to ever be white again, but we are achieving amazing results with the newest whitening techniques. In today advancement in technologies, there is a variety of smile whitening methods and technologies. Your smile can easily be whitened in a number of ways:
Types of Tooth Whitening at Delhi Dental Center –
There are two basic options for smile whitening:
In-office tooth whitening

: instant whitening results using light-activated gel to brighten teeth.
At-home whitening systems

: customized trays and prescription whitening gel done at home.
In-office tooth whitening gives immediate whitening results after treatment.
At-home tooth whitening systems need to be done as directed by your dentist over a period of time to attain the result warranted.
At our dental clinic we utilize L.E.D.  Tooth whitening technologies for our entire in-office tooth whitening treatments. This new L.E.D., technologies are able to go beyond in your natural tooth to target stain molecules below the surface, within the structure of the tooth itself, oxidize them, and remove them completely.
L.E.D., Tooth Whitening is one of the most advanced, widely accepted and effective tooth whitening methods in current use. It has transformed the appearance of thousands of patients. Even for those whose teeth are deeply stained, yellowed or gray in color,
Why us ?
• Premier, State of the ArtDentalCareCenter.
• Use of the latest techniques as per all recent advances in dentistry.
• Highly skilled dental surgeons from all fields of dentistry.
• Relaxed and a comfortable ambience.
• Personal care of each patient during and after treatment.
• Working hours from 9 a.m. to 1 p.m. and from 5 p.m. to 9 p.m. on all days   — Sundays Open from 9 a.m. to 1 p.m.
• No waiting lists.
For details and more information regarding treatment needs you can contact —
DR AMIT GOSWAMI
DELHI DENTAL CENTER 
76,RADHEY PURI, EXTENSION – 1.
Opp. Subway, Near Jagat Puri red light
Preet Vihar Metro Station .
East Delhi,
DELHI – 110051.
# Delhi Dental Center is located near Preet Vihar Metro Station in East Delhi, where you can easily reached from Laxmi Nagar, Shakarpur, Mother Dairy, Patpadganj, Mayur Vihar, Dilshad Garden, Noida, Indirapuram, Vaishali and Ghaziabad.
PH.
Mobile          —    0091 — 9968288257.
—   0091  — 9958236091. (   Whatsapp )
Landline       –    0091–11-22544207  ,
Website    —    https://delhidentalcenter.com/tooth-teeth-whitening-new-delhi-india
email I.D   —    delhidentalcenter@gmail.com