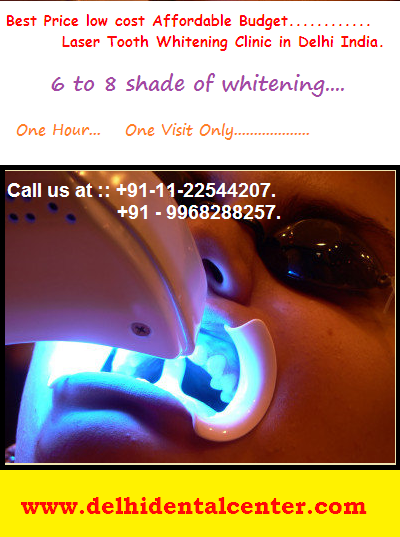 Welcome to our Delhi Dental Center :
State of art, professionally managed Delhi Dental Center was established in 2000 with the sole intent of providing evidence based dental treatment to all dental patients. With our cutting edge technology, international treatment standards, sterilization techniques we provide best dental treatment in New Delhi India. We offer affordable low cost and best price dental treatment in New DelhiIndia to all our clients.
Dental Treatments at Delhi Dental Center :
Delhi Dental Clinic with its cutting edge dental technology and latest equipments gives an ultimate level of perfection in dental treatment at Delhi, India. We offer every specialized treatment including Dental Implants, Laser tooth whitening, LED tooth whitening, Cosmetic dentistry, Dental Veneers, Dental Crowns within 24 hrs., Dental Bridges within 24 hrs, Dentures, Single day Root Canal Treatment, Dental Braces treatment, Invisible Tooth Colored Braces, Ceramic Braces, Lingual Braces, Pediatric Dentistry, Teeth Bleaching, Periodontics, Prothodontics, Endodontic Treatment, Orthodontic Treatment, Gum Treatment, Bone Grafting, Fluoride Application, Full Mouth Reconstruction, Smile Makeovers, etc.
All treatments are done in efficient and effective Autoclave based sterilization by our Delhi Dentists.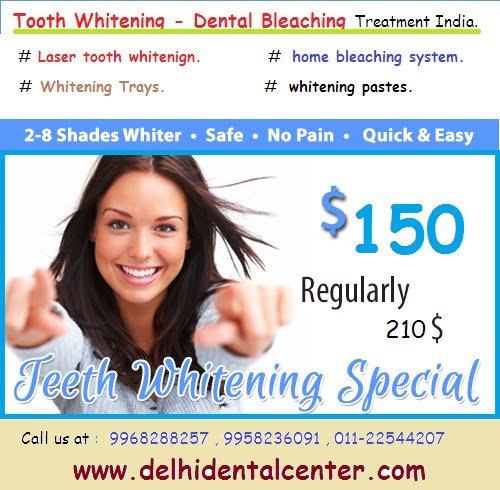 Laser Speed LED Tooth Whitening Center :
Brighten your smile up to 6 – 8 shades with our LED Tooth Whitening system. Our Tooth Whitening Delhi dentist specializes in tooth bleaching and Teeth Whitening at very competitive and best price. L.E.D tooth whitening offers outstanding results in less than one hour and one visit only……without overheating teeth and leaves teeth whiter, glossier and shinier.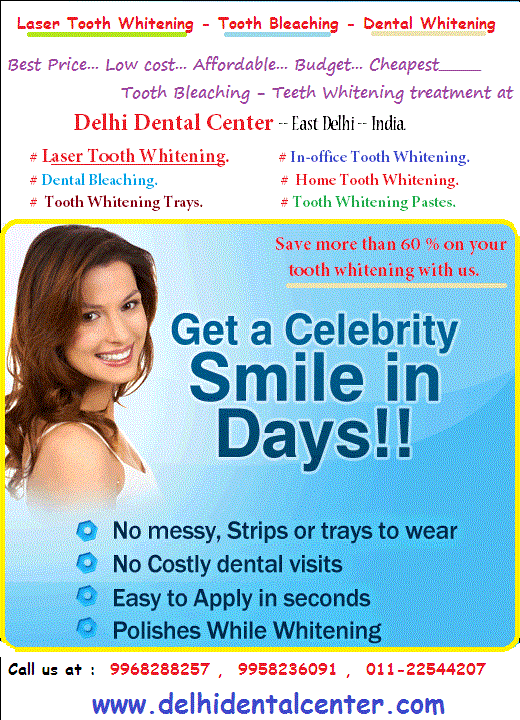 At our dental clinic we utilize L.E.D. Tooth whitening technologies for our entire in-office tooth whitening treatments. This new L.E.D, technologies are able to go beyond in your natural tooth to target stain molecules below the surface, within the structure of the tooth itself, oxidize them, and remove them completely.
L.E.D, Tooth Whitening is one of the most advanced, widely accepted and effective tooth whitening methods in current use. It has transformed the appearance of thousands of patients. Even for those whose teeth are deeply stained, yellowed or gray in colors.
At D.D.C we utilize L.E.D. Tooth whitening technology, most advanced, widely accepted and effective .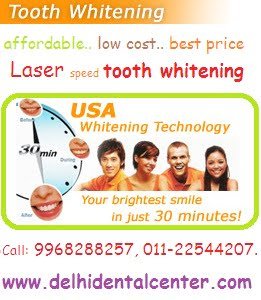 Why D.D.C.?
• Premier, State of the ArtDentalCareCenter.
• Use of the latest techniques as per all recent advances in dentistry.
• Highly skilled dental surgeons from all fields of dentistry.
• Relaxed and a comfortable ambience.
• Personal care of each patient during and after treatment.
• Working hours from 9 a.m. to 1 p.m. and from 5 p.m. to 9 p.m. on all days   — Sundays Open from 9 a.m. to 1 p.m.
• Extra emphasis on patient education to prevent dental diseases.
• Specially trained staff like receptionists and assistants .
• No waiting lists.
International Sterilizations Standards:
DDC carries the latest sterilization machines and equipments in ensuring that all our instruments are fully sterilized. Our dental clinic has checks and controls in place in ensuring international sterilization standards are adhered.
DR AMIT GOSWAMI
DELHI DENTAL CENTER 
 76,RADHEY PURI, EXTENSION – 1.
Opp. Subway, Near Jagat Puri red light
Preet Vihar Metro Station .
EAST – DELHI, INDIA
DELHI – 110051.
# Delhi Dental Center is located near Preet Vihar Metro Station in East Delhi, where you can easily reached from Laxmi Nagar, Shakarpur, Mother Dairy, Patpadganj, Mayur Vihar, Dilshad Garden, Noida, Indirapuram, Vaishali and Ghaziabad.
PH.
Mobile          —    0091 — 9968288257.
—   0091  — 9958236091. (   Whatsapp )
Landline       –    0091–11-22544207  ,
Website    —    www.delhidentalcenter.com
email I.D   —    delhidentalcenter@gmail.com