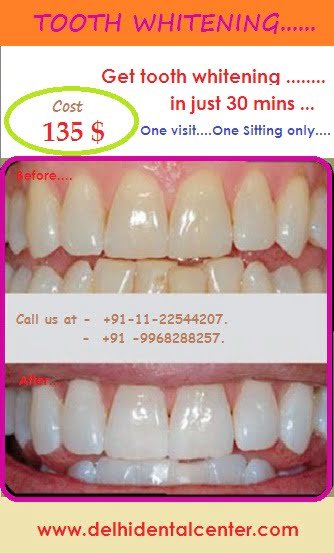 Welcome to our Delhi Dental Center : State of art, professionally managed Delhi Dental Center was established in 2000 with the sole intent of providing evidence based dental treatment to all dental patients. With our cutting edge technology, international treatment standards, sterilization techniques we provide best dental treatment in New Delhi India. We offer affordable low cost and best price dental treatment in New Delhi India to all our clients.
Dental Treatments at Delhi Dental Center : Delhi Dental Clinic with its cutting edge dental technology and latest equipments gives an ultimate level of perfection in dental treatment at Delhi, India. We offer every specialized treatment including Dental Implants, Laser speed tooth whitening, LED tooth whitening, Cosmetic dentistry, Dental Veneers, Dental Crowns within 24 hrs., Dental Bridges within 24 hrs, Dentures, Single day Root Canal Treatment, Dental Braces treatment, Invisible Tooth Colored Braces, Ceramic Braces, Lingual Braces, Pediatric Dentistry, Teeth Bleaching, Periodontics, Prothodontics, Endodontic Treatment, Orthodontic Treatment, Gum Treatment, Bone Grafting, Fluoride Application, Full Mouth Reconstruction, Smile Makeovers, etc.
All treatments are done in efficient and effective Autoclave based sterilization by our Delhi Dentists.
Laser Speed LED Tooth Whitening Center : Brighten your smile up to 6 – 8 shades with our LED Tooth Whitening system. Our Tooth Whitening Delhi dentist specializes in tooth bleaching and Teeth Whitening at very competitive and best price. L.E.D tooth whitening offers outstanding results in less than one hour and one visit only……without overheating teeth and leaves teeth whiter, glossier and shinier.
For persons coming to Delhi we assist you for :
budget hotel accommodation in New Delhi,
sight seeing in Delhi,
heritage tours of Delhi,
shopping in New Delhi,
Things to do in New Delhi – India,
going to places of interest in New Delhi,
Tours for Agra and Jaipur between treatment time.
Sterilization – special emphasis is given for sterilization at our center and we maintain strict sterilization protocol.
Location –  The most favorable and positive thing about our dental center is that we are on a main road and is easily visible and accessible as compared to most other dental clinics and centers which are on the inner lane of the blocks and are hard to reach. Our center is centrally located in Delhi, close to New Delhi railway station and ISBT – inter state bus terminal also. The main shopping areas as C.P., KarolBagh, Chandani Chowk, are very close by.
Connectivity  :-
Delhi Metro – The clinic is very much accessible from metro train as on both sides of the clinic Preet Vihar and Welcome metro stations are there – that too hardly 1 K.M of distance.
Direct from airport – if you are planning to come from New Delhi air port terminal T-3. You have to come to Rajiv chowk metro station then get on Anand Vihar line and have to get down at Preet Vihar metro station and can get a taxi from there – it will take 3 to 5 minutes to reach our center as we are only ½ a K.M. from there.
The Radhey Puri bus stand is just In front of the clinic. You can reach this clinic via metro and get down at any of the stations and can also come by bus.
Appointments :-
The appointment time is flexible and we work all 7 days a week and during the time of games 2010 in New Delhi we will give you your preferred time slot as per your preference.
or details contact –
DR AMIT GOSWAMI
DELHI DENTAL CENTER 
 76,RADHEY PURI, EXTENSION – 1.
Opp. Subway, Near Jagat Puri red light
Preet Vihar Metro Station .
EAST – DELHI, INDIA
DELHI – 110051.
# Delhi Dental Center is located near Preet Vihar Metro Station in East Delhi, where you can easily reached from Laxmi Nagar, Shakarpur, Mother Dairy, Patpadganj, Mayur Vihar, Dilshad Garden, Noida, Indirapuram, Vaishali and Ghaziabad.
PH.
Mobile          —    0091 — 9968288257.
—   0091  — 9958236091. (   Whatsapp )
Landline       –    0091–11-22544207  ,
Website    —    www.delhidentalcenter.com
email I.D   —    delhidentalcenter@gmail.com