.
What are Orthodontic dental teeth retainers.
An orthodontic retainer is an appliance (usually a removable one) that is to be worn after removal of your orthodontic brackets and wire, when the treatment gets over.
When your orthodontic treatment is over and braces are removed, your teeth has a tendency to come back to their original tooth position ( before treatment tooth position ).
Retainers help to prevent this tooth movement to happen.
.
.
Main function of a retainer is to hold the teeth in their new position till the time they get settled in their new dental position. After we move your teeth in orthodontic treatment, we need time for re-calcification to jaw bone around the teeth. For that we need to hold the teeth for that specific time and for this only we need a dental or orthodontic retainer. The length of time a retainer has to be used by the patient depends on how severe the mal-occlusion was.
Our best team of braces dentist orthodontist in East Delhi, can give all types of orthodontic retainers you like to have at our dental braces orthodontic clinic in Delhi, we give both removable or permanent fixed painless invisible tooth coloured clear transparent dental teeth retainers to our orthodontic patients.
Different Dental Braces We Use
What are Essix invisible dental teeth retainers?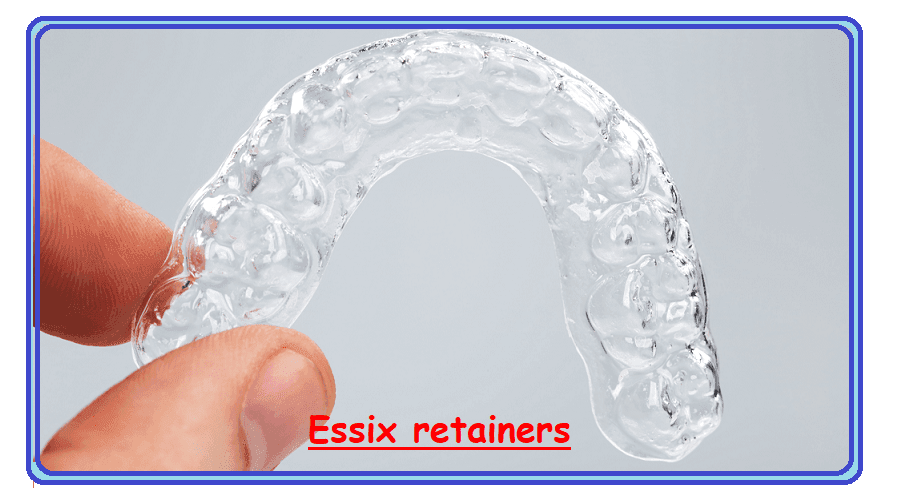 Essix retainers are removable retainers and are the latest type of painless invisible tooth coloured clear transparent dental retainers in Dentistry. They are made entirely of high-grade transparent plastic or acrylic, that conforms exactly to the contours of the teeth to aid in the maintenance of tooth position (retention). The Essix material does not typically cover the palatal tissues, which makes them less noticeable than traditional wire retainers.
Another benefit is that they encourage good dental hygiene. Patients can take out their retainer when they brush and floss, and clean the retainer itself at the same time. Unlike some wire retainers, Essix retainers cover the entire arch of the teeth.
But like the traditional Hawley, each one is uniquely moulded to the shape of the patient's mouth.
.
How Essix retainers work?
Essix retainers gently guide your teeth into a position where the upper and lower sets are even, straight and align with each other. Though your teeth may feel firmly set in your mouth,they move when under constant pressure and can assume new positions in the mouth all on their own. Essix retainers maintain the intended position following orthodontic treatment, all while providing minor corrections to slightly misaligned teeth if needed.
.
How to take care for your Essix retainer?
With consistent wear, an Essix retainer should last the entire length of your treatment. When caring for your retainer, Dr. Goswami always advises, be sure to:
Rinse the retainer in cold water every time you take it out and before you put it back in.

Store the retainer in a braces plastic case whenever you aren't wearing it.

Don't brush the retainer with toothpaste, as it can scratch the surface.

Brush the retainer after each meal with cool water and a soft toothbrush.

Don't put the retainer in hot water, which will shrink it.

Wash the retainer with a specialized retainer cleaner once every two to three months.
.
How long do we have to wear Exiss retainer?
The minimum time for the teeth to settle into their new positions after braces are removed is actually more than 2 to 3 years, and according to Delhi Dental Center, the standard length of treatment with an Essix retainer should not be less than 2 to 3 years post orthodontic treatment, as long as the retainer is worn throughout the day. You might have to wear an Essix retainer for up to two to three year or longer. After that, patients need only wear their retainers at night once or twice a week.
.
Living with Essix Retainers.
As delicate as they are, wearing Essix retainers should be trouble-free, and your routine should remain the same. Floss your teeth once a day and brush twice a day, using a soft-bristled toothbrush and a fluoride toothpaste. If your retainer begins to feel uncomfortable, it's a sign your teeth are moving out of position and you might not be wearing the retainer often enough. Wearing your retainer more will reduce this discomfort.
Essix retainers help patients feel less self-conscious about their orthodontic treatment. Follow your orthodontist's instructions closely to make the best use of yours, and you'll be on your way to straight, even and attractive teeth that never move out of position.
What are Hawley's retainer?

The Hawley appliance is one of the oldest types of orthodontic retainers used post-treatment. A removable item, it's made of a combination of plastic and metal that is moulded custom to fit your mouth. As you've probably seen, the wires sit against the six front teeth with loops near the canines that allow for minor adjustments as the teeth settle into place.
Because of these plastic and wire components, though this retainer can be distorted or changed by heat or damage from impact, so handle with care. Orthodontists typically fabricate a retainer for each arch and encourage you to wear it regularly for upwards of two to three years.
Initially, the retainer should be worn near full-time (18-24 hours daily). Usually after a one year, your braces dentist will reduce the amount of wear you'll need to keep things in place each day.
.
Taking care of your dental braces retainer.
Caring for this removable device is paramount for successful retention of your smile. Not only is this appliance fragile, but it is also expensive to replace – so keep it safe and make sure your kids don't lose it when at school (it's easy to throw out with their lunch as they take it out to eat). Keeping your retainer safe and clean will only expedite the end result of a stable smile. It is possible for them to become distorted or break, of course, but keep in mind it will set back treatment. A new retainer can take a week or more to be remade.
Proper care and storage should include:
Cleaning daily to remove bacteria and food debris.

Keeping away from heat or hot water.

Storing in its case when not in the mouth.

Cleaning Your Retainer. — Cleaning your retainer is akin to cleaning your teeth: Brush it gently with a soft-bristled toothbrush and toothpaste. You can also soak it in a cleaning agent similar to a denture cleaner a few times per week to freshen and kill germs that sit in the grooves of the mould. As always, it is best to follow your orthodontist's recommendation for how to clean your type of retainer – Hawley or otherwise.
A Hawley orthodontic teeth retainer is very common across multiple age groups. In fact, most people – children and adults – need to wear them for a period after their braces are removed. But the good news is you have a beautiful smile waiting for you! Obtaining and maintaining a straight, functional and desirable grin of teeth will build confidence and allow for a lifetime of healthy dental visits.
What are permanent lingual invisible teeth retainers (Bonded Retainers)?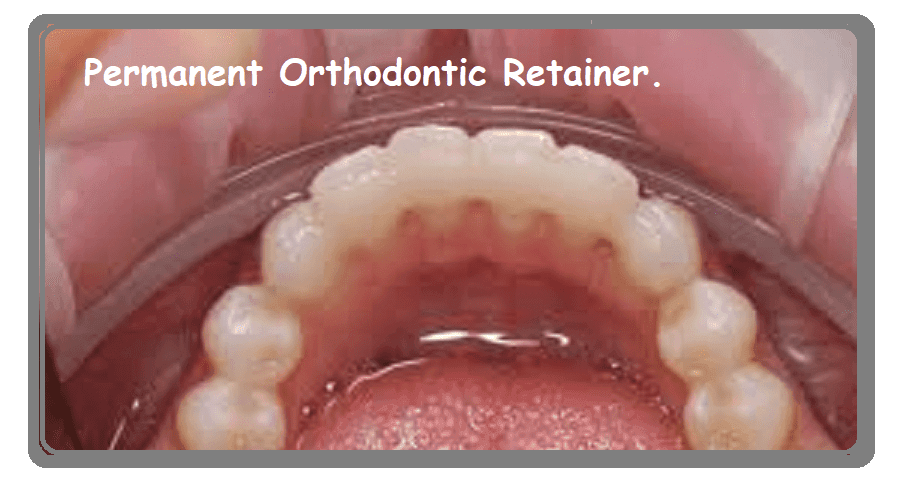 In some cases, a permanent retainer may be the better option. The bonded retainer is made up of a meshed strip that your orthodontist & dental braces specialist dentist will adhere behind your Upper & lower front six teeth to help keep them in their proper position. This is the area where relapse is most likely going to be seen. The bonded retainer is a helpful option if the patient has a large space between the upper front two teeth. After orthodontic treatment is finished and the space is completely closed, the bonded retainer can be used to keep the space closed. Care has to be taken when placing this wire to make sure you don't bite on the wire or on the adhesive pads holding it in place.
Regardless of if the bonded retainer is on the upper or lower teeth (or both), it is a simple, fast procedure.
.
Advantages & benefits of permanent retainers.
Some of the advantages of this type of retainer include:
Helps to prevent the teeth from shifting.

You don't have to worry about remembering to wear it.

It is completely invisible to anyone else since it is placed behind the teeth.
.
Disadvantages of permanent retainers.
These types of retainers are not used as often as removable retainers because they do represent a few more disadvantages than removable retainers:
Nothing is really permanent and the retainer can break and have to be replaced.

You have to be careful about what you eat.

You have to be diligent in keeping your retainer clean.

They don't offer protection against relapse for the back teeth.
.
In some special situations, it will be necessary to use both permanent and removable retainers to ensure relapse doesn't occur. However, learning more about a permanent vs removable retainer can help you determine what option best suits your needs and lifestyle. It is also a good idea to discuss these options with your orthodontist to see what they recommend.
.
Ask for free Dental Retainers Consultation.
Please feel Free to ask us any further questions about Dental Retainers treatment.

.
Dr. Goswami – the Delhi Dentist, owner of Specialist smile designing, cosmetic smile make-over, orthodontic dental braces clinic in East Delhi, welcome people who are looking for – cosmetic enhancement of their mal-aligned crooked teeth with help of removable painless invisible hawleys or Essix's retainers an invisible permanent orthodontic teeth retainers at their Dental Braces Dentist Clinic in East Delhi.
Reviews from our patients
Appointments
The appointment time is flexible and we work all 7 days a week and we will give you your preferred time slot as per your preference.
.
Feel free to ask us for a free consultation.
.
Dr. Amit & Vandana Goswami, one of the leading cosmetic dentist in Delhi, owner of specialty cosmetic smile designing, dental make-over orthodontic & teeth braces clinic in East Delhi, welcome adult people who are looking for cosmetic smile enhancement, smile designing other cosmetic dental treatments for their mal-aligned crooked permanent teeth by means of 3 to 6 months fast working painless invisible tooth colored dental braces, clear aligner treatment at very affordable, best price & low cost in Delhi NCR.
.
Same Dentist, Affordable cost, Same location since last 23 yrs. (est. 2000).
That's the real beauty of having dental braces treatment from Delhi Dental Center.