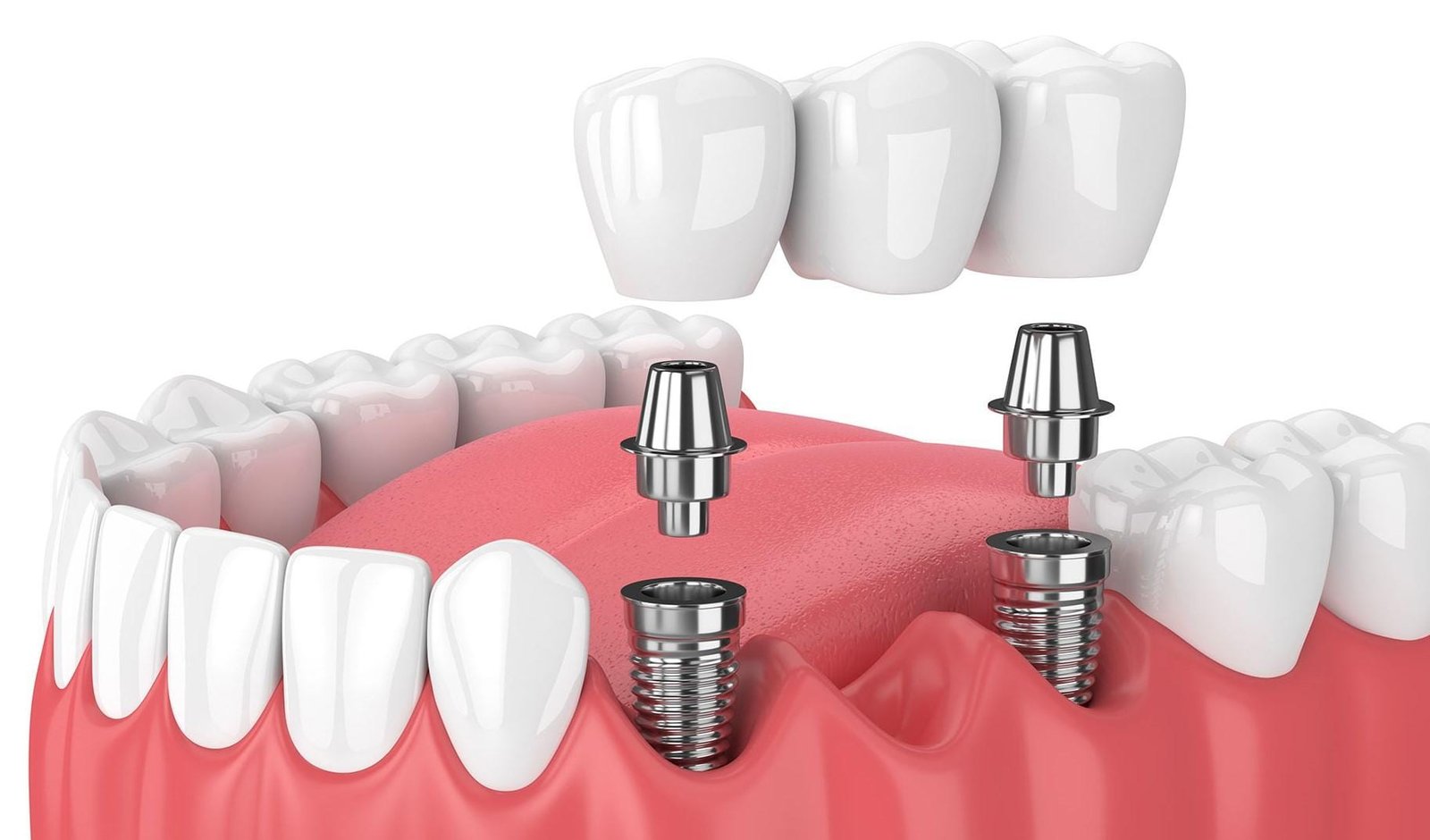 Dental Implant Bridge in East Delhi for several missing teeth replacement.
When you have several missing tooth spaces within one region, a dental implant supported fixed dental bridge can replace missing tooth spaces more economically then having individual implant crowns.
Just as with the treatment of single missing tooth, several missing teeth can be easily treated with dental implants. Implant supported teeth bridge are permanently fixed in the mouth.
Unlike removable appliances like partial or a full denture – implant bridge doesn't slip or click, and there is no worry about them moving or falling out while speaking, eating, or participating in any activity.
Dental implants supported fixed dental bridges look, feel, and function like natural teeth, and can last a lifetime.
Immediate Loading – Immediate Function Dental Implants.
Save up to 60 % money, on your dental implant treatment in India.
Get your Dental Implant Bridge in a Day – Dental Bridge within 24 to 48 hours.
We offer dental implant fixed bridge within 24 to 48 hours' time.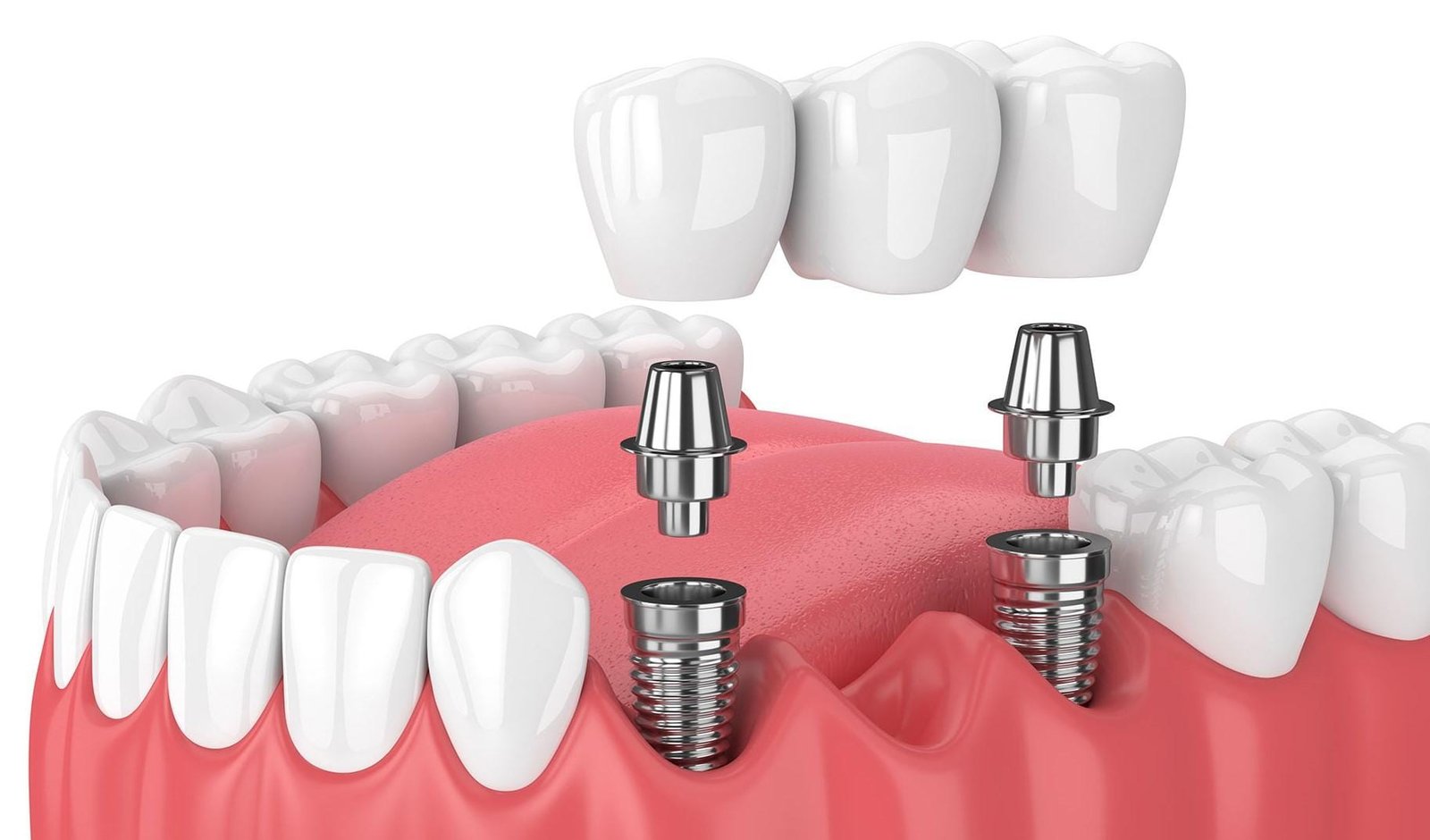 Dental Implant Bridge Within 24 to 48 hours.
Same Day Implants – Same Day Teeth.

At Delhi Dental implant clinic, Qualified patients receive their implants and beautiful new teeth all in a day, which is known as same day implant – same day teeth or teeth in an hour concept.
We can do this because we have all the specialists at one location, we have Digital Panaromic x-ray machine and Digital RVG at our implant clinic, to determine the exact patient bone condition for immediate implants. We use patient's Digital Dental Scan for treatment planning, we have an in-house dental lab to manufacture and fit your new teeth, and we use the latest immediate loading immediate function implants in our clinic.
For More Information
Go To Our Exclusive Website
Benefits of dental implant bridge.
Dental Implant Bridge in East Delhi 
Dental Implant Bridge in East Delhi 
Dental Implant Bridge in East Delhi 
Dental Implant Bridge in East Delhi 
Dental Implant Bridge in East Delhi 
Dental Implant Bridge in East Delhi 
Dental Implant Bridge in East Delhi 
Dental Implant Bridge in East Delhi 
Dental Implant Bridge in East Delhi 
Dental Implant Bridge in East Delhi 
Dental Implant Bridge in East Delhi 
Dental Implant Bridge in East Delhi 
Dental Implant Bridge in East Delhi 
Dental Implant Bridge in East Delhi 
Dental Implant Bridge in East Delhi 
Dental Implant Bridge in East Delhi 
Dental Implant Bridge in East Delhi 
Dental Implant Bridge in East Delhi 
Dental Implant Bridge in East Delhi 
Dental Implant Bridge in East Delhi 
Dental Implant Bridge in East Delhi 
Dental Implant Bridge in East Delhi 
Dental Implant Bridge in East Delhi 
Dental Implant Bridge in East Delhi 
Dental Implant Bridge in East Delhi 
Dental Implant Bridge in East Delhi 
Dental Implant Bridge in East Delhi 
Dental Implant Bridge in East Delhi 
Dental Implant Bridge in East Delhi 
Dental Implant Bridge in East Delhi 
Dental Implant Bridge in East Delhi 
Dental Implant Bridge in East Delhi 
Dental Implant Bridge in East Delhi 
Dental Implant Bridge in East Delhi 
Dental Implant Bridge in East Delhi 
Dental Implant Bridge in East Delhi 
Dental Implant Bridge in East Delhi 
Dental Implant Bridge in East Delhi 
Dental Implant Bridge in East Delhi 
Dental Implant Bridge in East Delhi 
Dental Implant Bridge in East Delhi 
Dental Implant Bridge in East Delhi 
Dental Implant Bridge in East Delhi 
Dental Implant Bridge in East Delhi 
Dental Implant Bridge in East Delhi 
Dental Implant Bridge in East Delhi 
Dental Implant Bridge in East Delhi 
Dental Implant Bridge in East Delhi 
Dental Implant Bridge in East Delhi 
Dental Implant Bridge in East Delhi 
Dental Implant Bridge in East Delhi 
Dental Implant Bridge in East Delhi 
Dental Implant Bridge in East Delhi 
Dental Implant Bridge in East Delhi 
Dental Implant Bridge in East Delhi 
Dental Implant Bridge in East Delhi 
Dental Implant Bridge in East Delhi 
Dental Implant Bridge in East Delhi 
Dental Implant Bridge in East Delhi 
Dental Implant Bridge in East Delhi 
Dental Implant Bridge in East Delhi 
Dental Implant Bridge in East Delhi 
Dental Implant Bridge in East Delhi 
Dental Implant Bridge in East Delhi 
Dental Implant Bridge in East Delhi 
Dental Implant Bridge in East Delhi 
Dental Implant Bridge in East Delhi 
Dental Implant Bridge in East Delhi 
Dental Implant Bridge in East Delhi 
Dental Implant Bridge in East Delhi 
Dental Implant Bridge in East Delhi 
Dental Implant Bridge in East Delhi 
Dental Implant Bridge in East Delhi 
Dental Implant Bridge in East Delhi 
Dental Implant Bridge in East Delhi 
Dental Implant Bridge in East Delhi