If you have missing all your teeth in upper arch or lower dental arch or both upper and lower jaws and you are facing problem while chewing or talking then you are at the right Dental Implant Clinics website………….
We offer best treatment solutions for all teeth missing in cases of all teeth missing in upper jaw as well as in cases of all teeth missing in lower jaw.
Full mouth Dental Implant treatment Clinic in Delhi offers, much different type of full mouth dental implant treatment procedures.
With today's new technologies it is possible to reconstruct and rehabilitate full teeth missing jaws with dental implants with fixed dental bridges that results in a permanent, stable, secure and high aesthetic solution similar to having a new set of teeth again on which you can eat and chew well again.
We specialize in narrow specialty – on advanced oral rehabilitation of edentulous jaws with dental implant treatment options.
Our Dental Implant Clinic in India is looked up from more than 50 countries for providing affordable budget best price and low cost of full mouth dental implant bridge treatment in India & Asia pacific region.
We are doing full mouth dental implant treatment procedures with fixed dental bridges on them as one of the various dental implant treatments available with us.
For full mouth dental implant bridges, we offer All Porcelain Full ceramic or Porcelain fused to metal Implant bridge to our patients as well as Zirconia CAD CAM Metal free Implant bridges.
We have 13 different implant systems to work with.
We do Immediate Loading — Immediate Function Dental Implants

Advantages and Benefits of Full Arch Dental Implants Bridges.
This provides a fixed permanent restoration for individuals who have lost all their natural teeth.
Full mouth implants with bridges lets you eat and function like your own natural teeth.
This is a very stable solid and long lasting solution as compared to conventional dentures.
These full mouth implant supported bridges are immediate loading and immediate function ones.
These look like your own natural teeth, so smile is far better than that from dentures.
Full mouth implants with bridges has the best esthetics as to dentures.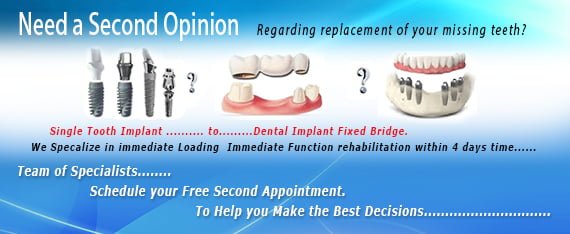 For More Information Go To :
Related Links :