Laser Tooth Whitening Treatment
Dr. Goswami's Delhi Dental Center welcomes people looking for Laser Speed Teeth Whitening & Tooth Bleaching Treatment Procedure in Delhi, India.
We utilize Laser Teeth whitening technologies for our entire in-office tooth whitening treatments.
Zero Pain
Most reliable
least Sensitivity
Highest success rate
Laser teeth Whitening with new L.E.D technology, is one of the most advanced, widely accepted and effective teeth whitening methods in current use. It has transformed the appearance of thousands of our patients. Even for those whose teeth are deeply stained, yellowed or gray in colors.
L.E.D tooth whitening offers outstanding results – without overheating teeth and leaves Teeth Whiter, Glossier & Shinier..

We are fully qualified teeth whitening dentist in Delhi and have whitened over 1500 fabulous smiles!! Since yr. 2000.. ( 22 yrs in practice ).
The procedure is entirely safe, non-invasive and is the only system in India which guarantees little or least sensitivity with GREAT results!
This procedure is very popular dental procedure these days!
The average person's teeth go 7-10 shades lighter! 
One visit.. one hour.. get your Beautiful smile..
Get pearly white teeth in just 30 minutes..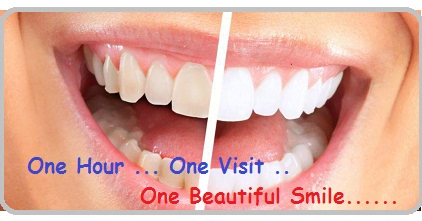 For more information go to :