Best top periodontal flap surgery specialist dentist periodontist at Delhi Dental Center, in Delhi India welcome people looking for affordable best price low cost chronic gum disease treatment for Bleeding Gums, Bad Breath, Gingivitis, Periodontitis, lose mobile teeth in Delhi, India & Asia Pacific region.
Periodontal Flap surgery or Gum Surgery is needed when your gum disease reaches to an advanced stage that cannot be cured through medicines or non-surgical gum treatment procedures as of Full mouth Scaling – curettage & root planning procedures… at this advance stage of gum disease the infection reaches the bone level and starts destructing the supporting bone around the tooth as well – so bad breath, bleeding from gums and looseness of your teeth becomes a prominent feature of the disease….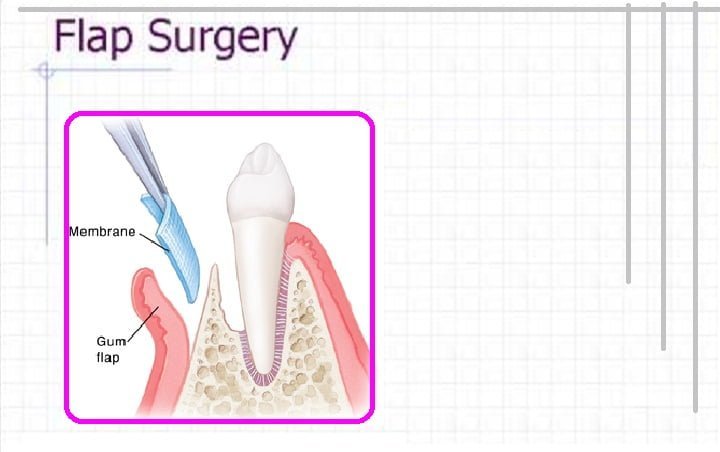 Periodontal Flap Surgery is basically a state-of-the-art treatment technique and is most commonly used approach for the surgical treatment and plastic surgery repair of the periodontal pockets. These periodontal pockets are the end result of gum infection and inflammation that causes the loss of tissue structure and attachments to the teeth – a common consequence leading to periodontal disease.
Long term goal of periodontal surgery is to help increase the life expectancy of the teeth.
Flap surgery is not a cure, but rather it creates an environment that makes it easier to maintain good oral health.
This treatment procedure is therefore aimed at controlling the basic cause – the bio-film, over a life time.
You have to maintain a regular oral care and monitoring by us with regular dental cleaning (scaling) to ensure success of the treatment.
Perspective of Periodontal Surgery.
The purpose of periodontal surgery is to treat bone deformaties and gum tissue loss caused by gum disease process, this surgery helps in eliminating periodontal pockets in order to create and maintain gum health. technique has been devaloped to deal with the gum tissue and the underlying bone.
The objectives of the periodontal flap sugery are to :
Eliminate or reduce pockets.
Regenerate periodontal tissue and their re-attachment to the teeth.
Create a noraml periodontal form, function & esthetics.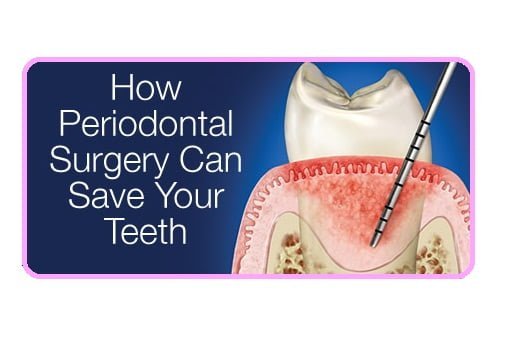 The Gum Surgery –
At Delhi Dental Center, one of the top Best Periodontal Flap Surgery & Dental Gum care faculty in India. Gum and periodontal flap surgery specialist dentist Periodontist Dr. Goswami maintains very strict sterilization protocol to attain good treatment results.
Before the procedure, you will be given a local anesthetic to numb the area where the Gum dentist will work on your infected gums.
Gum dentist Dr. Goswami, will pull apart a section of your gums to see properly how is the condition of your gums are ….then we will clean the gums do through root planning & curettage of the bone as well…we will clean all the diseased gum tissue, infected bone and corrugated root surface and we will smoothen and reshape your bone to reduce the existing spaces where the bacteria can grow, so as to make a clean environment for new gum attachments in between the tooth and the alveolar bone.

At Delhi Dental Center, Dr. Amit & Vandana Goswami, will always put Bone Graft Material + PRF + Growth Factors into the surgical site so as to enhance the new bone formation at the site and we have always got very good results by doing so.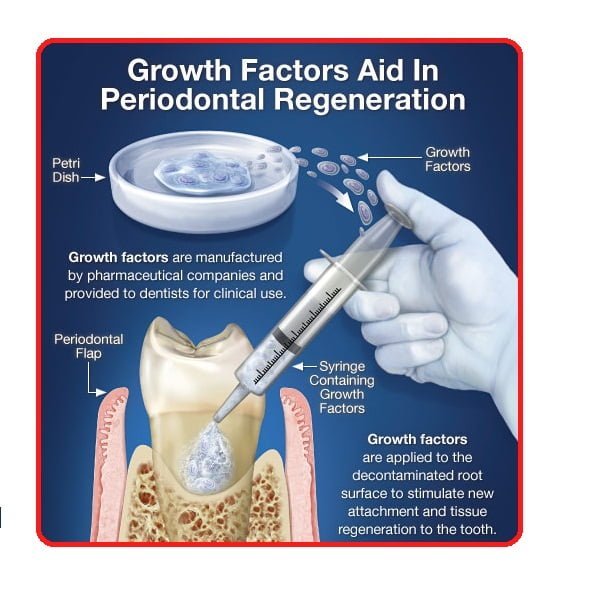 After all the cleaning, reshaping of bone and putting up the bone regeneration material at the site the gum is then closed over.
Care after flap surgery –
Take pain killers as prescribed.
After 24 hrs, you can rinse your mouth gently with warm salt water several times a day to reduce the swelling and relieve post operative pain.
Relax after surgery. Strenuous physical activity may increase bleeding.
Eat soft foods such as gelatin, pudding or light soup. Gradually add solid foods in the diet as the healing takes place.
Do not lie flat. This may prolong bleeding, prop up your head with a pillow.
Carefully brush your teeth with a very soft toothbrush.
Apply an ice-pack to the outside of surgical site to reduce swelling.
Do not rinse vigorously for first 2 to 3 days.
Do not smoke for first few days to speed up the healing process.
Expectations after getting your Flap surgery –
A flap surgery procedure is not a cure but is need to save your teeth that are supported by a bone damaged by gum disease.
Gum disease usually will come back if you do not brush your teeth, use a regular floss and a mouthwash as well.
To promote healing, stop all use of tobacco. Smoking or using spit tobacco products decreases your ability to fight infection of your gums and delays healing.
.you need to have regular dental visits to Delhi Dental Center so that we could see your progress. if your gum disease spreads, you may lose your teeth.
Price cost of Flap Surgery treatment in India.
At Delhi Dental Center we offer best price low cost affordable budget cheapest periodontal flap surgery treatment procedure in Delhi NCR region in India & Asia pacific region. The price varies according to the condition and severity of the periodontal gum condition….
Please send us your dental Panaromic O.P.G.  X-ray and your teeth photos in jpg format to us at our email id – delhidentalcenter@gmail.com and we will get back to you at the earliest.