Endodontic root canal materials we use in Delhi, India.
Delhi Dental Center – One of the best Endodontic root canal treatment clinic in Delhi, has the latest endodontic machines and materials to do the best root canal treatment possible for their patients. We have LED fitted endomotor, digital RVG x-ray sensors, digital endodontic ultrasonic activator, best root canal irrigants, latest apex locator in India, for root canal filling we have obturation gun and pen with us.
Latest

LED light fitted Rotary Endo-motor machine

.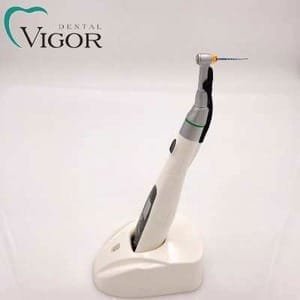 We Have

Digital x-ray machine — R.V.G

with us for detailed screening of the tooth in question.
We use

Single disposable

root canal heat activated NiTi rotary and Hand files.
We use

Endodontic Ultrasonic Activator

to remove debris from the walls and clean them efficiently……
We use proper

root canal Irrigants

to clean root canals properly…..
We use

world's latest Apex locators with 4.5' LCD screen for going till the apex of the root tip.
We use world's best

root canal medicaments

as well as

fillers

.
We use

world's latest root canal filling Gun

and

Heat Activated Sealer machine

to fill the root canal to utmost precision.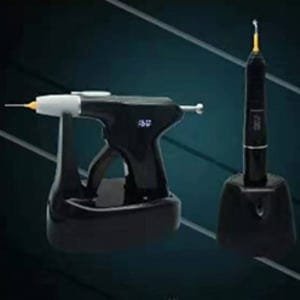 Reviews from our patients
Please feel Free to ask us any further questions about your Root Canal treatment
OR
for a Free R.C.T. Consultation.
Dr. Goswami, the Delhi dentist, owner of root canal endodontic treatment clinic in East Delhi India, welcome people to have a detailed consultation for their destructed or tooth with deep cavities or exposed pulp root canal chambers and their reconstruction & rehabilitation with immediate single sitting one visit painless root canal endodontic therapy with post and core build-up of the broken tooth area followed by a Zirconia CAD CAM designed metal free all porcelain full ceramic full coverage dental crown on the involved tooth.
.
Same Endodontist – Affordable cost – Same location since last 23+ years. (est. 2000).
That's the real beauty of having Root Canal Treatment from Delhi Dental Center.
.
Dr Amit Goswami & Dr Vandana Goswami, Owners of Delhi Dental Center, one of the few painless root canal specialist dentist in East Delhi, welcome people looking for affordable budget best price low cost RCT, Root Canal Treatment, Endodontic procedures in East Delhi's nearby areas like, Indrapuram, Laximi Nagar, Patpar ganj, Pahar Ganj, Karol Bagh, IP Extension, Mayur vihar, Dilshad Garden, Preet Vihar, Anand Vihar , Jagriti Enclave, Shahadara, Shibabad, Noida, Greater Noida, Gaziabad, gurgaon, West Delhi, Central Delhi, Dwarka – Delhi, India.
Dental Surgeon
Best Dentist, Dental Surgeon in East Delhi.
Best Dentist Dr. Amit Goswami and Dr. (Mrs.) Vandana Goswami, owners of Delhi Dental Center. Are one of the Best Dentist & Best dental surgeons in East Delhi, India; they have a long experience of more than 23+ years in government hospitals, working in dental collage as a lecturer and private dental practice in East Delhi. They have a long carrier experience in cosmetic dentistry, smile designing, smile makeover and enhancement. They are one of the few specialist dentists for full mouth rehabilitation and reconstruction with dental implants and zirconia dental crown and bridges in East Delhi, India.
Dr. Amit Goswami and Dr. (Mrs.) Vandana Goswami, Best Dentist regularly upgrade their skills and experience by attending to various cosmetic dentistry, full mouth rehabilitation and reconstruction, crown and bridges, veneers, dental implant, skin rejuvenation continuous educational courses in India & abroad.
With their commitment to dentistry and hard work along with Cutting-Edge Technology, Latest Dental & Skin Equipment's, International Treatment standards & Sterilization techniques they provide best painless, world class dental treatments in East Delhi, India.
.
We are qualified Best dentist in Delhi and have corrected over 15,000 + fabulous smiles!!!!!! Since 2000. ( 23+ years in practice ).
Root Canal Materials
Root Canal Materials
Root Canal Materials
Root Canal Materials
Root Canal Materials
Root Canal Materials
Root Canal Materials
Root Canal Materials
Root Canal Materials
Root Canal Materials
Root Canal Materials
Root Canal Materials
Root Canal Materials
Root Canal Materials
Root Canal Materials
Root Canal Materials
Root Canal Materials
Root Canal Materials
Root Canal Materials
Root Canal Materials
Root Canal Materials
Root Canal Materials
Root Canal Materials
Root Canal Materials
Root Canal Materials
Root Canal Materials
Root Canal Materials
Root Canal Materials
Root Canal Materials
Root Canal Materials
Root Canal Materials
Root Canal Materials
Root Canal Materials
Root Canal Materials
Root Canal Materials
Root Canal Materials
Root Canal Materials
Root Canal Materials
Root Canal Materials
Root Canal Materials
Root Canal Materials
Root Canal Materials
Root Canal Materials
Root Canal Materials
Root Canal Materials
Root Canal Materials
Root Canal Materials