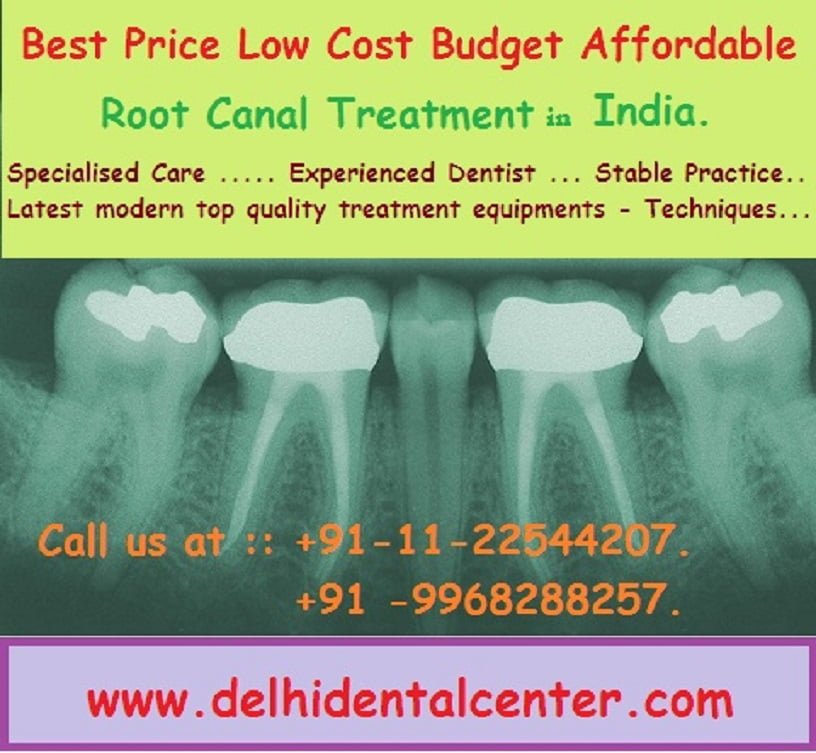 .
Post and Core Build-up Treatment for broken teeth in East Delhi, India.
Best top root canal specialist dentist, Endodontist Root Canal Dentist In East Delhi India, does post and core build-up treatment procedure for broken, destructed or root canal treated teeth at our root canal clinic in East Delhi, India.
.
Root canal treated teeth have a number of characteristics that makes them different than normal "vital" teeth (teeth with live nerves inside them). Root canal treated teeth tend to be more brittle than vital teeth. These teeth need special treatment, or they tend to break a few years' time, especially the back teeth that have broad biting surfaces.
So, if you had a large decay or the tooth had too much of destructed part and you had got an RCT done for your tooth, then for the final restoration to stay at his place after root canal filling, you need a Post and Core Build-up for that tooth of yours.
A post and core treatment procedure is a dental restoration used to sufficiently build-up tooth structure for future restoration with a crown when there is not enough tooth structure to properly retain the crown, due to loss of tooth structure.
Post placement involves the cementation of a metallic post, glass-fiber pin or a RIBBOND bondable reinforcement ribbon combined with any dual cured composite based resin cement in the root canal and building up the permanent filling around it. This whole thing makes your tooth structure a bit strong and the post helps the restoration to stay in place.
.
Broken teeth treatment with Post & Core build-up procedure.
Reviews from our patients
Please feel Free to ask us any further questions about your Root Canal treatment or for a Free R.C.T. Consultation.
.
Dr. Goswami, the Delhi dentist, owner of root canal endodontic treatment clinic in East Delhi India, welcome people to have a detailed consultation for their destructed or tooth with deep cavities or exposed pulp root canal chambers and their reconstruction & rehabilitation with immediate single sitting one visit painless root canal endodontic therapy with post and core build-up of the broken tooth area followed by a Zirconia CAD CAM designed metal free all porcelain full ceramic full coverage dental crown on the involved tooth.
.
Same Endodontist – Affordable cost – Same location since last 23+ years. (est. 2000).
That's the real beauty of having Root Canal Treatment from Delhi Dental Center.
.
Feel free to ask us for a free consultation
Dr Amit Goswami & Dr Vandana Goswami, Owners of Delhi Dental Center, one of the few painless root canal specialist dentist in East Delhi, welcome people looking for affordable budget best price low cost RCT, Root Canal Treatment, Endodontic procedures in East Delhi's nearby areas like, Indrapuram, Laximi Nagar, Patpar ganj, Pahar Ganj, Karol Bagh, IP Extension, Mayur vihar, Dilshad Garden, Preet Vihar, Anand Vihar , Jagriti Enclave, Shahadara, Shibabad, Noida, Greater Noida, Gaziabad, gurgaon, West Delhi, Central Delhi, Dwarka – Delhi, India.
Endodontist Root Canal Dentist Endodontist Root Canal Dentist Endodontist Root Canal Dentist Endodontist Root Canal Dentist Endodontist Root Canal Dentist Endodontist Root Canal Dentist Endodontist Root Canal Dentist Endodontist Root Canal Dentist Endodontist Root Canal Dentist Endodontist Root Canal Dentist Endodontist Root Canal Dentist Endodontist Root Canal Dentist Endodontist Root Canal Dentist Endodontist Root Canal Dentist Endodontist Root Canal Dentist Endodontist Root Canal Dentist Endodontist Root Canal Dentist Endodontist Root Canal Dentist Endodontist Root Canal Dentist Endodontist Root Canal Dentist Endodontist Root Canal Dentist Endodontist Root Canal Dentist Endodontist Root Canal Dentist Endodontist Root Canal Dentist Endodontist Root Canal Dentist Endodontist Root Canal Dentist Endodontist Root Canal Dentist Endodontist Root Canal Dentist Endodontist Root Canal Dentist Endodontist Root Canal Dentist Endodontist Root Canal Dentist Endodontist Root Canal Dentist Endodontist Root Canal Dentist Endodontist Root Canal Dentist Endodontist Root Canal Dentist Endodontist Root Canal Dentist Endodontist Root Canal Dentist Endodontist Root Canal Dentist Endodontist Root Canal Dentist Endodontist Root Canal Dentist Endodontist Root Canal Dentist Endodontist Root Canal Dentist Endodontist Root Canal Dentist Endodontist Root Canal Dentist Endodontist Root Canal Dentist Endodontist Root Canal Dentist Endodontist Root Canal Dentist Endodontist Root Canal Dentist Endodontist Root Canal Dentist Endodontist Root Canal Dentist Endodontist Root Canal Dentist Endodontist Root Canal Dentist