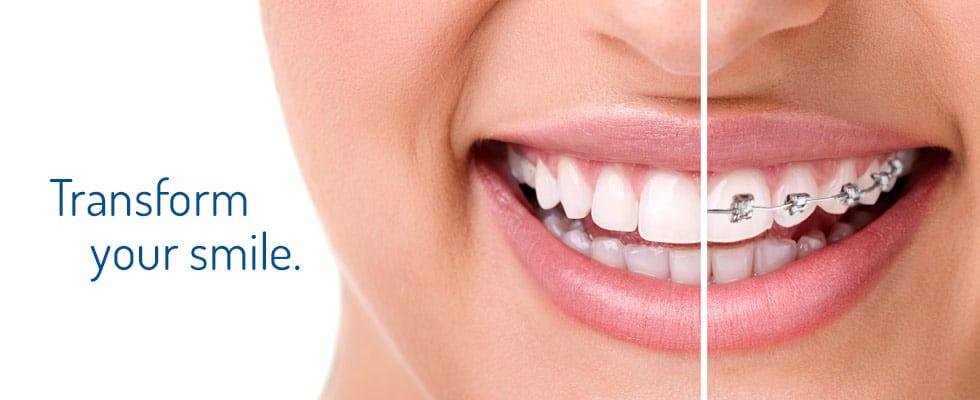 Dental Braces for Adults.
It's never too late to have braces that lead to a beautiful smile.
When it comes to enhancing your smile or improving oral health & function, don't let your age be a barrier. More and more adults are discovering the benefits of painless orthodontic treatment later in life.
We welcome adult's looking for affordable best price low cost painless invisible tooth colored dental braces & clear dental aligner with world class treatment standards, for shortest duration possible at our dental braces clinic in Delhi, "an expert in adult orthodontic & braces treatments".
Delhi Dental Center offers you the very best experience in painless adult dental braces treatment. Exceptional dentists, quality care, flexible appointments and comfortable surroundings are all part of our practice.

We are proud to introduce a revolutionary combination of proven painless orthodontic teeth braces techniques, modern dental braces materials and innovative thought of 4 to 7 month express ultra-fast working painless dental braces treatment for Adult, this utilizes specialized clear transparent tooth colored braces to gently straighten and align teeth in an average time of 4 to 7 months' time frame.
People of any age can benefit from this adult orthodontic treatment. Teeth that are crooked crowded, or that stick out affect the way your teeth look and work. Orthodontic treatment not only improves the look of your smile but your health as well. Straight teeth are easier to clean and less likely to get tooth decay or injured. If you are not happy with the way your teeth look or work, orthodontic treatment may help.
Different Dental Braces We Use
Adults today are getting braces treatment due to number of reasons. At Delhi Dental Center our patients vary from those who had braces done as a child, now wants a touch up done for their teeth & people looking for getting nice smile for the first time.
Delhi Dental Center is proud to offer our adult orthodontics patients:
Accelerated orthodontics.

Six-month treatment plans.

Aligners – Clear Bite Treatment.

Removable appliances.

Invisible / lingual braces.
Affordable for every budget; customized for every lifestyle.
Why adults choose braces treatment.
They may have difficulty in chewing due to bad bite.

Their teeth are too crowded or spaces too widely apart, which can lead to tooth decay or gum disease.

They might have jaw pain, TMJ problems or suffer from pressure for crooked teeth.

They need confident smile and healthier mouth.
Difference between Adult braces treatment and that with children and teens?
For adults the jaw bone has stopped growing and for children it is still growing, so for adults the concept of treatment procedure changes; moreover, there are other differences too
Gum or bone loss

– Adults are more likely to have recessed gums or bone loss because of gum diseases.

Worn or Missing teeth

— as you age your teeth can become worn down, some time they change their positions as well. Adults are more likely to have missing teeth as well, which as lead to change of position of the teeth surrounding missing teeth space – leading to bad bite or gum disease.
Incomplete Braces treatment in the past – some adults wore braces but didn't completed their full treatment or irregularly wore retainers as teenagers. Now they would like to finish their treatment and enjoy a beautiful smile.
.

Pay in Easy Monthly installments.
.
Why should adults get dental braces & orthodontic treatment done?
Having straight teeth helps to keep your teeth healthy. If your teeth are in correct position they will be easier to floss & brush, less likelihood to have gum diseases.

It will be a confidence builder. Right orthodontic treatment will give you better quality of life & helps bring confidence in your smile.

Leaving teeth uncorrected can lead to several long-term problems, including uneven wear on the teeth.
If you'd like to hear more about your adult orthodontic treatment needs, feel free to give us a call today 9968288257.
We will work out some convenient schedule for your appointment and will make this process as convenient as possible.
Appointments
The appointment time is flexible and we work all 7 days a week and we will give you your preferred time slot as per your preference.
Feel free to ask us for a free consultation.
Dr. Amit & Vandana Goswami, one of the leading cosmetic dentist in Delhi, owner of specialty cosmetic smile designing, dental make-over orthodontic & teeth braces clinic in East Delhi, welcome adult people who are looking for cosmetic smile enhancement, smile designing other cosmetic dental treatments for their mal-aligned crooked permanent teeth by means of 3 to 6 months fast working painless invisible tooth colored dental braces, clear aligner treatment at very affordable, best price & low cost in Delhi NCR.
Same Braces Dentist in Delhi, Affordable cost, Same location since last 23 yrs. (est. 2000).
That's the real beauty of having dental Braces Treatment from Delhi Dental Center.