Dental Implant Denture in East Delhi
We welcome people who are having loose or ill-fitting dentures for getting implant supported over denture or implant fixed denture treatment at our dental implant clinic in Delhi, India.
Sometimes the jaw bone height goes down or recedes for people who wear dentures for years; this is because of loose fitting dentures they are wearing for long time and as a result the denture becomes loose.
Full jaw implant retained or fixed dentures are economical & affordable treatment for all missing teeth replacement option. Implants acts as anchors support and retention that holds a full denture in place.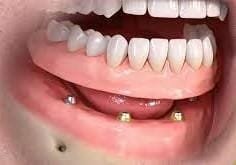 Affordable full Jaw implant retained dentures
Implant supported and fixed dentures is an economical way for all missing teeth replacement treatment options. Implants provide good retention and better stability for your denture.
Get a check-up and free consultation at leading Dental Implant Hospital in Delhi.


For More Information
Go To Our Exclusive Website
Our dental implant specialist team uses Immediate loading immediate function implant system at our implant clinic in India, we can give you implant supported fixed dentures in less than 10 to 15 working days.
At Delhi dental implant & denture clinic qualified patients receive their immediate implants and beautiful new teeth all in the same day. We can do this because we have all the specialist things at one location, we use patients digital panaromic OPG for treatment planning, we have on-site dental lab to manufacture and fit your new denture.
.
Advantages & benefits of implant supported dentures over normal dentures:
Implant supported fixed denture use to get its support from the underlying implants, it gets fixed to the implants so slipping of denture and loose denture problem for the patient does not exist with these dentures.

In this treatment sometimes, it is possible that we can use your existing normal denture, modify it and use it on the implants as an over denture, so cost comes down.

These dentures are mostly removable, so easy in use.

These dentures offer long lasting solution to your existing loose dentures, often for a life time.

You will have a renewed confidence and improved quality of life as well with these new implants fixed denture treatment.
Dental implant fixed denture treatment is very cost effective, affordable and economical in India as compared to getting same treatment in Bangkok in Thailand, Budapest in Hungry, Costa Rica, America, Canada or even Australia.
Dental Implant supported Denture Patients will be able to save up to 60 to 70 % of the cost they were to pay in their country.
.
We have two treatment options.
.


.
.
.
.


Procedure for Implant retained overdenture treatment
The course of treatment described here is one of several options available. Consult your dentist to find out what the best solution is for you, given your specific condition.
1. Before the procedure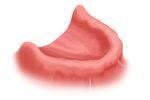 • At Delhi Dental Center, Dr Amit Goswami and Dr Vandana Goswami will do dental examination and will take your X – rays.
• If needed they will take impressions for both upper and lower jaw bones to study the feasibility for a dental implant supported fixed dentures or partial dentures for you.
Duration – 20 to 30 minutes.
2. Installing the implant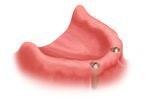 • We will make the area numb and the Implants will be inserted in the jaw bone.
• We generally use 2 implants for upper and lower arches but we can use 4 implants in each arch too for added retention.
• Temporary dentures can be worn till the time your over-dentures are being made.
Duration – 30 to 60 minutes.
3. Attaching ball/bar and making overdentures

When dental implant specialist dentist will confirm that implants are integrated well with your bone, then we will fix ball or a bar to the implants so that on these the over denture can get fixed and they act as a clip to hold the denture on the implants.
Duration – 30 minutes.
4. Fixation of the denture to the implants.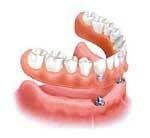 • Dental Implant Fixed Denture is inserted and placed well. All aesthetics checked.
• Now your implant with fixed denture will feel and functions like your own natural teeth.
• Do your usual dental hygiene to keep the implant over-denture and gum around it clean and healthy.
Duration – 30 minutes.
We have two treatment options.
Dental Implant Denture in East Delhi
Dental Implant Denture in East Delhi
Dental Implant Denture in East Delhi
Dental Implant Denture in East Delhi
Dental Implant Denture in East Delhi
Dental Implant Denture in East Delhi
Dental Implant Denture in East Delhi
Dental Implant Denture in East Delhi
Dental Implant Denture in East Delhi
Dental Implant Denture in East Delhi
Dental Implant Denture in East Delhi
Dental Implant Denture in East Delhi
Dental Implant Denture in East Delhi
Dental Implant Denture in East Delhi
Dental Implant Denture in East Delhi
Dental Implant Denture in East Delhi
Dental Implant Denture in East Delhi
Dental Implant Denture in East Delhi
Dental Implant Denture in East Delhi
Dental Implant Denture in East Delhi
Dental Implant Denture in East Delhi
Dental Implant Denture in East Delhi
Dental Implant Denture in East Delhi
Dental Implant Denture in East Delhi
Dental Implant Denture in East Delhi
Dental Implant Denture in East Delhi
Dental Implant Denture in East Delhi
Dental Implant Denture in East Delhi
Dental Implant Denture in East Delhi
Dental Implant Denture in East Delhi
Dental Implant Denture in East Delhi
Dental Implant Denture in East Delhi
Dental Implant Denture in East Delhi
Dental Implant Denture in East Delhi
Dental Implant Denture in East Delhi
Dental Implant Denture in East Delhi
Dental Implant Denture in East Delhi
Dental Implant Denture in East Delhi
Dental Implant Denture in East Delhi
Dental Implant Denture in East Delhi
Dental Implant Denture in East Delhi
Dental Implant Denture in East Delhi
Dental Implant Denture in East Delhi
Dental Implant Denture in East Delhi
Dental Implant Denture in East Delhi
Dental Implant Denture in East Delhi
Dental Implant Denture in East Delhi
Dental Implant Denture in East Delhi
Dental Implant Denture in East Delhi
Dental Implant Denture in East Delhi
Dental Implant Denture in East Delhi
Dental Implant Denture in East Delhi
Dental Implant Denture in East Delhi
Dental Implant Denture in East Delhi
Dental Implant Denture in East Delhi
Dental Implant Denture in East Delhi
Dental Implant Denture in East Delhi
Dental Implant Denture in East Delhi
Dental Implant Denture in East Delhi
Dental Implant Denture in East Delhi
Dental Implant Denture in East Delhi
Dental Implant Denture in East Delhi
Dental Implant Denture in East Delhi
Dental Implant Denture in East Delhi
Dental Implant Denture in East Delhi
Dental Implant Denture in East Delhi
Dental Implant Denture in East Delhi
Dental Implant Denture in East Delhi
Dental Implant Denture in East Delhi
Dental Implant Denture in East Delhi
Dental Implant Denture in East Delhi
Dental Implant Denture in East Delhi
Dental Implant Denture in East Delhi
Dental Implant Denture in East Delhi
Dental Implant Denture in East Delhi
Dental Implant Denture in East Delhi
Dental Implant Denture in East Delhi
Dental Implant Denture in East Delhi
Dental Implant Denture in East Delhi
Dental Implant Denture in East Delhi
Dental Implant Denture in East Delhi
Dental Implant Denture in East Delhi
Dental Implant Denture in East Delhi
Dental Implant Denture in East Delhi
Dental Implant Denture in East Delhi
Dental Implant Denture in East Delhi
Dental Implant Denture in East Delhi
Dental Implant Denture in East Delhi
Dental Implant Denture in East Delhi
Dental Implant Denture in East Delhi
Dental Implant Denture in East Delhi
Dental Implant Denture in East Delhi