At our Delhi Dental Center, for cosmetic Dentistry & Smile Designing…………. we utilize Laser speed Tooth whitening technologies for our entire in-office tooth whitening treatments.
With this new L.E.D technology, now we are able to go beyond in your natural tooth to target stain molecules below the surface, within the structure of the tooth itself, oxidize them, and remove them completely.
Laser speed teeth & Tooth Whitening is one of the most advanced, widely accepted and effective tooth whitening methods in current use. It has transformed the appearance of thousands of patients. Even for those whose teeth are deeply stained, yellowed or gray in colors.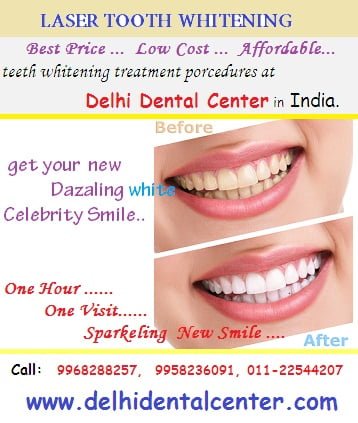 At D.D.C we utilize L.E.D. Tooth whitening technology, most advanced, widely accepted & effective.
All our Products & Machines are FDA & CE approved.
Get Laser Tooth whitening in just One Hour….. One Visit …..
Connectivity  :-
Delhi Metro – The clinic is very much accessible from metro train as on both sides of the clinic Preet Vihar ( 0.5 Km from DDC ) and Welcome metro station ( hardly 1 K.M of distance).
Direct from airport – if you are planning to come from New Delhi air port terminal T-3. You have to come to Rajiv chowk metro station then get on Anand Vihar line and have to get down at Preet Vihar metro station and can get a taxi from there – it will take 3 to 5 minutes to reach our center as we are only ½ a K.M. from there.
The Radhey Puri bus stand is just In front of the clinic. You can reach this clinic via metro and get down at any of the stations and can also come by bus.
Appointments :-
The appointment time is flexible and we work all 7 days a week  from 9 to 1 pm in morning time and 5 to 8.30 pm evening time ( Sunday evenings off )………………
For details and more information regarding treatment needs you can contact —
DR AMIT GOSWAMI
DELHI DENTAL CENTER 
76,RADHEY PURI, EXTENSION – 1.
Opp. Subway, Near Jagat Puri red light
Preet Vihar Metro Station .
EAST – DELHI
DELHI – 110051.
PH.
Mobile          —    0091 — 9968288257.
—   0091  — 9958236091. (   Whatsapp )
Landline       –    0091–11-22544207  ,
Website    —    https://delhidentalcenter.com/laser-tooth-teeth-whitening-new-delhi-india/
email I.D   —    delhidentalcenter@gmail.com