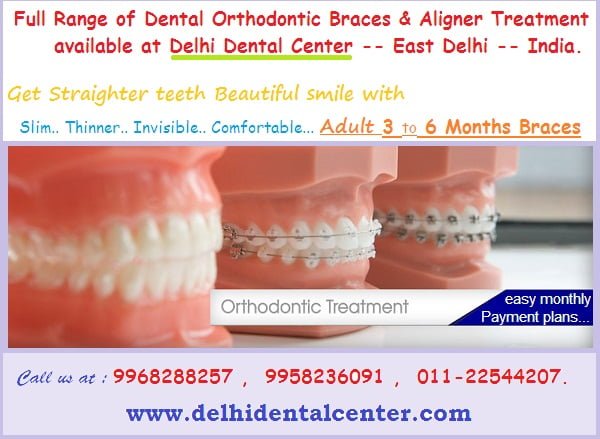 Looking for best price, low cost, affordable, budget and Cheapest…..
         Adult Orthodontic & Braces treatment in East Delhi – NCR – India………
Common reasons why adults are considering orthodontic treatment:
A bad bite or malocclusion, causing teeth to fit together incorrectly
Teeth are crowded or spaced apart, possibly leading to tooth decay or gum disease
Abnormal jaw pain or pressure that is caused by crooked teeth
Desire for a healthier mouth and a more confident smile
Pay in Easy Monthly installments……….
Ask for free Braces Consultation….
Dr. Goswami's Delhi Dental Center in East Delhi…… welcomes people looking for Affordable Budget Best Price Low Cost Cheapest Adult Dental Braces Treatment Procedure in East Delhi, Noida, Indrapuram, Laximi Nagar, Patparganj, IP Extension, Mayur vihar, Dilshad Garden, Preet Vihar, Anand Vihar , Jagriti Enclave, Shahadara, Shibabad, Gaziabad, gurgaon, West Delhi, Central Delhi, Dwarka – Delhi, India.
Appointments – The appointment time is flexible and we work all 7 days a week and we will give you your preferred time slot as per your preference.
For details and more information regarding treatment needs you can contact –
Dr. Amit Goswami & Dr. Vandana Goswami.
            DELHI DENTAL CENTER 
76,Radhey Puri, Extension – 1, Opp. Subway,
Near Jagat Puri red light — Preet Vihar Metro Station .
EAST – DELHI
DELHI – 110051.
Ph.              —    0091 — 9968288257.
—     0091 — 9958236091.
–     0091–11-22544207  ,
Website    —    https://delhidentalcenter.com/adult-dental-braces-Delhi-India          
Email I.D   —    delhidentalcenter@gmail.com