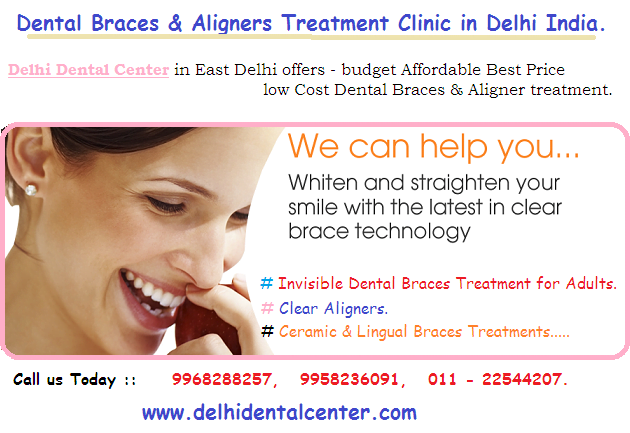 Adult Dental Braces is a worthwhile investment for live ……
Few awkward months ( 3 to 7 ) in exchange for decades of straight teeth.
If you didn't have the opportunity to wear dental braces as a child, you can still benefit from an improved smile and better oral health by wearing — Adult Invisible Dental Braces in your adult years.
Fast ……….Comfortable……….No Pain…………
Clear………Transparent…………….Invisible………
Invest in Adult Dental Braces Treatment & you'll reap both tangible and intangible rewards.
If smiling was never easy for you, it will be.
You will feel boost in self-esteem after treatment.
You could find it easier to excel at work or school.
You may even notice that people treat you better after the dental braces Treatment gets over.
Pay in Easy Monthly installments……….
Ask for free Braces Consultation….
Best price Guaranty……
Dr. Goswami's Delhi Dental Center in East Delhi…… welcomes people looking for Affordable Budget Best Price Low Cost Cheapest Adult Dental Braces Treatment Procedure in East Delhi, Noida, Indrapuram, Laximi Nagar, Patparganj, IP Extension, Mayur vihar, Dilshad Garden, Preet Vihar, Anand Vihar , Jagriti Enclave, Shahadara, Shibabad, Gaziabad, gurgaon, West Delhi, Central Delhi, Dwarka – Delhi, India.
Appointments – The appointment time is flexible and we work all 7 days a week and we will give you your preferred time slot as per your preference.
For details and more information regarding treatment needs you can contact –
Dr. Amit Goswami   &   Dr. Vandana Goswami.
            DELHI DENTAL CENTER 
76,Radhey Puri, Extension – 1, Opp. Subway,
Near Jagat Puri red light — Preet Vihar Metro Station .
EAST – DELHI
DELHI – 110051.
Ph.              —    0091 — 9968288257.
—     0091 — 9958236091.
–     0091–11-22544207  ,
Website    —    https://delhidentalcenter.com/adult-dental-braces-Delhi-India
Email I.D   —    delhidentalcenter@gmail.com