Benefits, Recovery & after care of Tooth Whitening Treatment.
Dr. Goswami's — Delhi Dental Center – one of the top specialized Laser Speed Teeth Whitening, tooth bleaching Treatment Dental Clinic in East Delhi India, welcome people looking for Benefits, recovery, after-care of tooth discoloration and tooth whitening treatment procedures, Laser speed Dental-Tooth-Teeth whitening or Dental Bleaching procedures for their stained or dis-coloured teeth.
Benefits of Tooth Whitening
Corrects brown, yellow tooth staining.
Corrects tooth discoloration due to heavy usage of certain drugs.
Works on people of all ages.
Corrects and improves dull smile.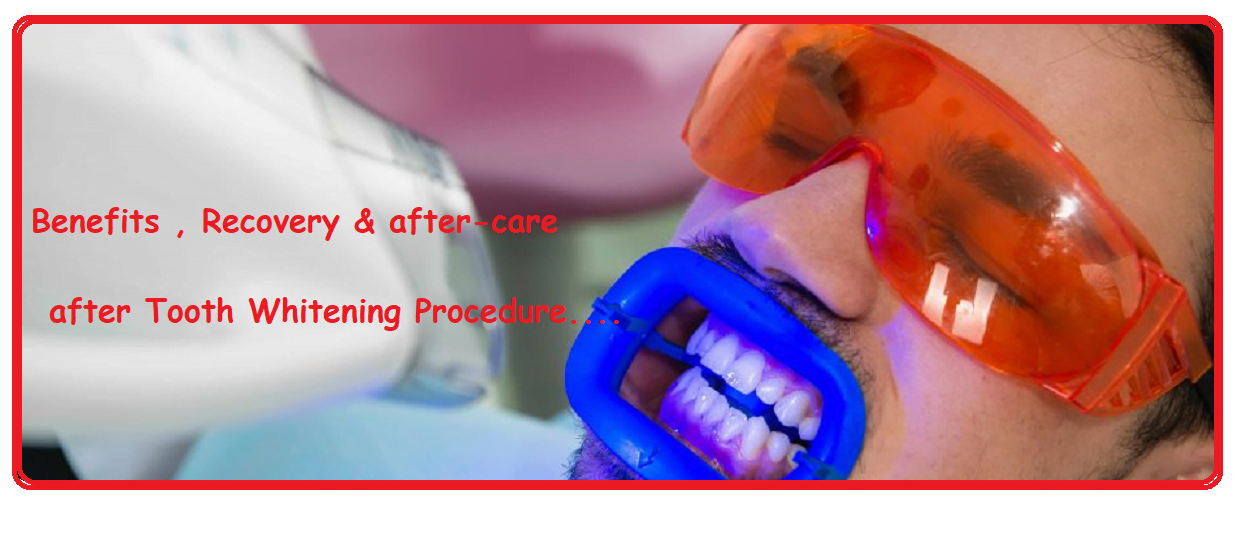 Benefits of L.E.D. Tooth Whitening
Fast and gentle whitening system. The L.E.D. whitening treatment is completed within one visit in about one hour.
More efficient L.E.D. energy allows for faster treatment time and less post-procedure sensitivity compared to other in-office whitening treatments.
No need to wear the tray over night as used in at-home whitening systems.
Accredited by FDA and CE.
Benefits of Home Whitening
can be done in the privacy at home.
Recovery Expectations
Some people who undergo in-office whitening may experience some sensitivity in their teeth. This sensitivity should be gone within 1-2 days. Sensitivity from at home whitening will dissipate after a 1-2 day rest between whitening applications.
Care for Tooth Whitened Teeth
Patient should follow good oral hygiene practices
Brush at least twice a day.
Floss at least once to twice a day.
Rinse with fluoride rinse before bed.
Be careful about chewing toffees, gum, grainy rolls and tough food in this area.
See your dentist for regular professional check-ups and cleanings.