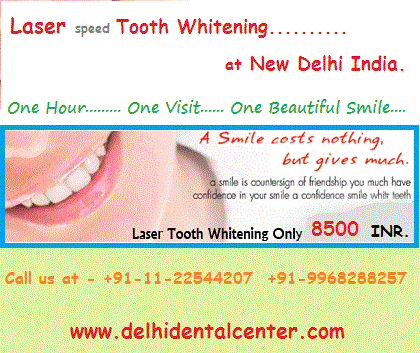 Dr. Amit Goswami, owner of Delhi Dental Center welcome people looking for Dental Laser Tooth Whitening treatment procedure in Delhi India.
Zero Pain 
Most reliable
least Sensitivity
Highest success rate
Delhi Dental Center in East Delhi is offering LED based Laser speed Teeth Whitening for just 139 USD $ for limited time only. This is an unbeatable amazing offer.
Our 20 minute whitening session will out sell any other teeth Whitening. Why because it gives fantastic professional results with no pain or sensitivity and best of all no hydrogen peroxide.
This procedure is very popular dental procedure these days!
NOW JUST 139 $!
The average person's teeth go 7-10 shades lighter !
If you are interested in this fabulous treatment or would like some more info please contact me on the following;
For details and more information regarding treatment needs you can contact —
DR AMIT GOSWAMI
DELHI DENTAL CENTER 
 76,RADHEY PURI, EXTENSION – 1.
Opp. Subway, Near Jagat Puri red light
Preet Vihar Metro Station .
EAST – DELHI, INDIA
DELHI – 110051.
PH.
Mobile          —    0091 — 9968288257.
—   0091  — 9958236091. (   Whatsapp )
Landline       –    0091–11-22544207  ,
Website    —    www.delhidentalcenter.com
email I.D   —    delhidentalcenter@gmail.com