At our Dental Crown treatment Clinic in New Delhi India, our Delhi Dentist — Dr Amit Goswami and Dr Vandana Goswami will need normally four visits for dental bridge procedure in New Delhi India. The course of treatment described here is one of several options available. Dr Amit Goswami and Dr Vandana Goswami will advise you on the best solution for you, given your specific condition and individual needs.
Porcelain Fused to Metal Dental Crowns.
Porcelain-Fused-to-Metal Dental Crowns offers a strong, durable and esthetic treatment option for people going for dental crown and bridge work. One of the key factors for functional success of these crowns is the crown preparation of the underlying natural tooth structure – if adequate space and appropriate thickness of the material is there the crown will last a good time. Esthetic appeal to the crown is governed by the skills of the lab technician working on your crown work.
One consideration that bothers people theses days about these crowns that – these crowns may tend to show the underlying metal margin at the gum line as the gum recceds over time. People who opt for these crowns might have to replace them at a later date in order to maintain higher esthetic benefits.
Full Porcelain All Ceramic Dental Crowns..
The predominant material of choice for all-ceramic full porcelain crowns today is ether Zirconia or Alluminous materials. These provide a metal free esthetic options with a number of benefits…………
By eliminating the need for the supportive metal core, an esthetic all-ceramic crown can be created with reduced thickness of material. This makes them more favorable treatment of choice where there is less of space. Additionally, the elimination of the metal core allows for light transmition through the porcelain for better optical, life like propertied and a higher level of esthetics.
All ceramic materials continue to evolve in strength and durability, but caution should still be taken for areas of the mouth requiring heavy function.
Procera – All Ceramic Dental Crown and Bridges in New Delhi India..
We at our cosmetic dental center in east Delhi in India offers our patients new machined – hand laid porcelain technology that is now available for your front as well as back teeth. This new system gives you strength of traditional porcelain crowns as well as translucency of just like your natural teeth.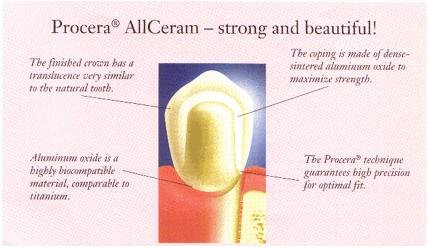 In Procera All Ceram crown and bridge work the coping is made of extremely dense-sinstered aluminum oxide – this material ensures of optimal fit, great strength, non-pourous and has ability to transmit light without being transparent.
Due to its high strength of the core material these crown and bridges can be recommended for prosthetic reconstructions anywhere in the mouth. More and more patients are asking for these materials now days as it is very much bio-compatible which as a result minimizes the risk of allergic reactions.
We also offer our dental implant patients with the choice of having Procera – Zirconia Implant Abutments work done at our dental clinic in Delhi, for their dental implant crown and bridge work for anterior as well as posterior crown and bridge work in New Delhi India.
Benefits of Procera Zirconia
• Uncompromised beauty
• Upto 3 to 16 units bridge
• Any number of pontics
• Available in all shades
• Outstanding compatibility
• Conventional cementation like PFM's.
3M Lava Zirconia All Ceramic Full Porcelain Dental Crown and Bridges in New Delhi India.
At cosmetic dental clinic in New Delhi India, we offer our dental patients the facility to have Full Porcelain All Ceramic Zirconia Dental Crowns from 3M ESPE also called as 3M Lava Dental Crown and Bridge work in New Delhi India. 3M Lava dental crowns in New Delhi India are one of the strongest zirconia based All Ceramic Dental Crowns available today. Lava dental crown and bridge work combines both strength and durability coupled with great esthetics and has an eight shade choice for your natural tooth shade matching.
In 3M-Lava dental crown and bridge work zirconium oxide glass free polycrystalline is used as a base material which give the crown and bridge work a very high strength and thus marginal fit is great – no dark lines at the margin of your dental crown now. They are suitable for both front anterior and back posterior teeth. The unique coping of 3M Lava dental crowns is made from a precision by using CAD/CAM technology at the milling system and this withstands stresses many times greater than those in the mouth. 3m Lava crown and bridge work has over 5 years of clinical history with proven results.
Why 3M LAVA dental crowns at Delhi Dental Center ?
• Lava crown and bridge work has a patented substructure of 3M and available in 8 different shades.
• Lava dental crowns has a proven high strength.
• Lava crown work has good marginal finish – no more black lines at the end of your dental crowns.
• Lava dental crown and bridge work needs only conventional cementation.
• In lava dental crown and bridge work we do minimal tooth structure removal for dental crown cutting.
• Conventional cementation like PFM's.
Warranty on 3M LAVA Dental Crown a Bridge work at Delhi Dental Center.
At Delhi Dental Center, our cosmetic dentist in east Delhi gives a 5 to 15 year warranty on the dental crown and bridge work….. If your dental crown or dental bridge breaks off we will make it free….
I.P.S. Empress Crown and Bridge work at New Delhi India.
In many cases, an all-ceramic crown that is stronger than stacked porcelain is needed to achieve the esthetic results needed by us. A proven presseable ceramic restoration, IPS Emprees is ideal in these situations – this offers our patients satisfaction of aestheics, natural looking restorations, through exclusive use of ceramic material
IPS Emprees esthetics remains the ultimate Leucite reinforced pressed glass ceramic, featuring function, shape, contour, color, natural light transition and strength of natural teeth. IPS Emprees all-ceramic crown and bridge work provides unmatched results in front teeth as the material looks so natural. Individual tooth colored restorations can be reproduced in exact shape and shade. Even when working in limited space, optimum esthetic results can be obtained.
IPS Dental Crowns are used to provide absolutely metal free restorations and they are biocompatible alternative to patient suffering from allergies to metal porcelain crowns.
Indications –
IPS crowns are used of veneers, inlays / onlays and for single as well as dental Bridge work ( Bicuspid forward ).
IPS e-max – layered porcelain veneers, single as well as dental Bridge work up to 4 unit .
Contraindications –
These crowns are not recommended when more conservative options can be used as it requires a minimal preparation of 1 mm.
IPS e.max – All Ceramic Dental Crown and Bridges in New Delhi India.
IPS e.max is made of monolithic lithium disilicate ceramic and delivers outstanding esthetics and precision fit. IPS e.max delivers the ultimate in metal free esthetics and strength utilizing both pressable and CAD/CAM technologies. IPS e.max offers outstanding esthetics, high strength and predictable shade matching even with difficult combination cases.
Its unique lithium disilicate ceramic material provides flexural strength of 360 to 400 MPa, making it ideal high strength solution for single unit anterior or posterior crowns, veneers, inlays, screw retained implant crowns, 3 unit anterior bridges or restorations with minimum prepration dimensions.
What is E.max?
e.max is not a single product or solution, but is rather a complete all-ceramic system. What ties the entire product in this system together is a single layer or porcelain that is compatible with all framework technologies. This results in better shade matching for complex of cases and a simplified layering approach for the dental labs. The equal composition of the materials and the resulting uniform clinical properties support the lifelike appearance of these restorations.
CAD / CAM system
DAL mills IPS e.max CAD with the Sirona in-lab MC XL and enhanced CEREC 3D software to diliver better, faster, easier crowns.
Indications –
e.max can be used for single anterior or posterior crowns, veneers and inlay / onlays.
Contraindications –
These crowns are not recommended with a feather edge prepration, as it does not provide adequate room for porcelain build-up.
CERCON – All Ceramic Dental Crown and Bridges in New Delhi India.
Cercon crowns are the most modern crowns in dentistry and they have no metal part in them. These crowns have a slim and tooth colored very thin ultra strong zirconium base that replaces the metal base. Normal porcelain is built on these zirconia bases. This means that this is full porcelain crown but it is much stronger than the normal full porcelain jacket crown. Cercon material is especially suitable for fabricating long dental bridges.