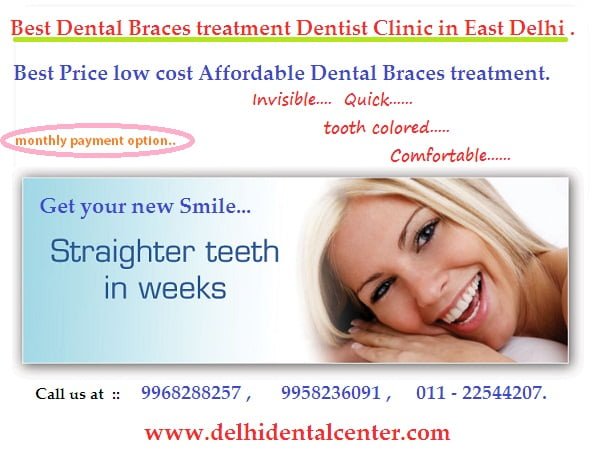 It's never too late to have braces that lead to a beautiful smile. Dr. Goswami's Delhi Dental Center caters to Dental Braces patients and makes it a priority to provide the highest level of care and service that you expect in a best-in-class orthodontic practice.
60 to 80 % of our orthodontics patients are adults.
3 to 6 Months Treatment Time…………..
Dr. Goswami's Delhi Dental Center in East Delhi…… welcomes people looking for Affordable Budget Best Price Low Cost Cheapest Adult Dental Braces Treatment Procedure near — East Delhi, Noida, Indrapuram, Laximi Nagar, Patparganj, IP Extension, Shkarpur, Mayur vihar, Dilshad Garden, Preet Vihar, Anand Vihar , Jagriti Enclave, Shahadara, Shibabad, Gaziabad, gurgaon, West Delhi, Central Delhi, Dwarka in Delhi, India.
Pay in Easy Monthly installments……….
Ask for free Braces Consultation….
Appointments – The appointment time is flexible and we work all 7 days a week and we will give you your preferred time slot as per your preference.
For details and more information regarding treatment needs you can contact –
Dr. Amit Goswami   &   Dr. Vandana Goswami.
            DELHI DENTAL CENTER 
76,Radhey Puri, Extension – 1, Opp. Subway,
Near Jagat Puri red light — Preet Vihar Metro Station .
EAST – DELHI
DELHI – 110051.
Ph.              —    0091 — 9968288257.
—     0091 — 9958236091.
–     0091–11-22544207  ,
Website    —    https://delhidentalcenter.com/Dental-Braces-Treatment-Clinic-New-Delhi-India
Email I.D   —    delhidentalcenter@gmail.com