Cost of dental crowns varies largely based on the material of which they are made off and the Dental laboratory from where they has been made.
The overall cost of a dental crown which you will get generally includes –
·         The experience of the Dentist.
·         Crown material.
·         Dental Laboratory + Experience of the Dental Technician.
·         Location of the Dental Clinic and
·         The Country from where you are getting your dental treatment done.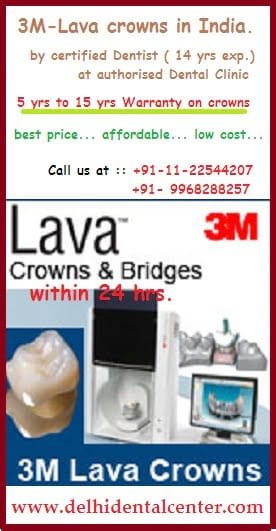 See as far as the material of the crown material is concerned – we at Delhi Dental Center – use the same material as used worldwide in all reputed dental labs… we have all the latest dental equipments and latest machines to fabricate the crowns…
All our Dental Crown and Bridge Products are CE and ADA certified.
 The cost or price for getting a dental crown & bridge work at Delhi Dental Center, in New Delhi India is very less compared to the cost of dental crown in London, Budapest in Hungry and Costa Rica or at Bangkok in Thailand etc. our price is 1/6th or even lesser from America & Europe….
The Cost of Porcelain Ceramic Fused to Metal Crowns is far less than all porcelain or all ceramic dental crowns, Cost vary from 3500 to 7000 INR (  53 to 107 USD $  )
 The Cost of CAD- CAM Zirconia Metal Free Crowns vary from 10,000 to 20,000 INR per crown (  153  to  307 USD $  )  depending upon the material used.
***   It is my advice to visit 2 to 3 Dental Crown Clinics or Dentists on internet before finalizing your dental crown procedure.