Delhi Dental Center in East Delhi India, offers cheapest affordable best price low cost top quality 3M Lava dental crowns & bridges with 5 to 15 years warranty, 3M-Lava monolith, 3M-Lava Premium, 3M-Lava Classic, 3M-Lava essential crowns & bridges Delhi India.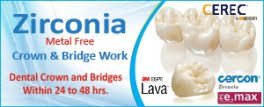 Top Quality high end 3M – LAVA Zirconia dental crowns & bridges in India…………
                                   at 3M-Lava Authorized Clinic for Dental Crown & Bridges in India…………..
                                                by 3M-Lava certified Dentist at DELHI DENTAL CENTER – DELHI  — NCR – INDIA.
Delhi Dental Center at East Delhi in India, Offers full range of 3M – Lava   ==  Zirconia Metal free all-ceramic Full Porcelain Dental Crown and Bridge work………
Only clinic in Delhi with full range of 3M-LAVA crown & Bridge materials — you can ask for –
3M-Lava Basic,
3M-Lava Essential,
3M-Lava Monolith,
3M-Lava Premium,
3M-Lava all contour full zirconia…………..
We are the only clinic in Delhi to offer crowns in 24 to 48 hrs too………………..
Cheapest price guaranteed ……………………..
5 to 15 yrs warranty…………………
3M-Lava Porcelain (ceramic) is an extremely biocompatible material with no allergenic potential. This can be a real advantage to predisposed (allergic) patients.
3M-Lava All-porcelain (ceramic) crowns without metal core are distinguished by their excellent aesthetics. Light is not only reflected, there is also real transparency as seen in natural teeth. This effect makes the all-porcelain crown perfect for use in anterior areas, whereby minor form and alignment corrections are also possible.
For details and more information regarding treatment needs you can contact to —
DR AMIT GOSWAMI
DELHI DENTAL CENTER 
76, Radhey Puri, Extn – 1, Opp. Subway.
Near jagat puri red light – preet vihar metro station.
EAST – Delhi  — 110051.
PH.             –    0091–11-22544207  ,
—    0091 — 9968288257.
Website    —    www.delhidentalcenter.com
email I.D   —    delhidentalcenter@gmail.com