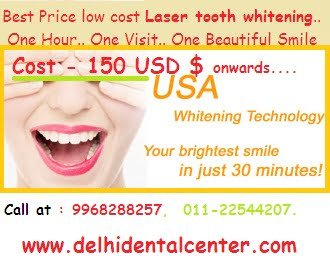 Dr. Amit Goswami, owner of Delhi Dental Center welcome people looking for Dental Laser Tooth Whitening treatment procedure in Delhi India.
Delhi Dental Center has got a new thing – latest …..Instant Laser speed Tooth Whitening machine – it whitens your teeth of what ever shade to pearly white teeth in just one visit – one hour…
  Brighten your smile up to 6 – 8 shades with our Instant in-office Laser speed LED Tooth Whitening system.
In just one visit ……… one hour………
We offer Affordable Budget Best Price Low cost of Tooth Bleaching, Teeth Whitening & Laser Tooth Whitening at New Delhi India.
L.E.D tooth whitening offers outstanding results — without overheating teeth and leaves Teeth Whiter, Glossier & Shinier…………..
This tooth whitening center in New Delhi is on a main road, well connected to Delhi metro and bus services.
For details and more information regarding treatment needs you can contact —
DR AMIT GOSWAMI
DELHI DENTAL CENTER 
76,RADHEY PURI, EXTENSION – 1.
Opp. Subway, Near Jagat Puri red light
Preet Vihar Metro Station .
EAST – DELHI
DELHI – 110051.
PH.
Mobile          —    0091 — 9968288257.
—   0091  — 9958236091. (   Whatsapp )
Landline       –    0091–11-22544207  ,
Website    —    www.delhidentalcenter.com
email I.D   —    delhidentalcenter@gmail.com