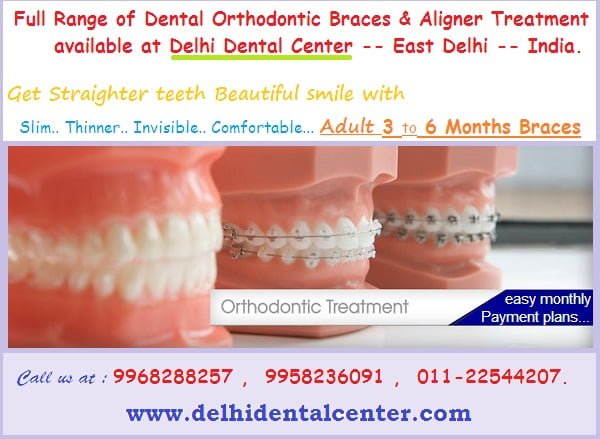 Get your Metal Dental Braces Treatment at
Top Best Dental Braces Clinic in East Delhi…
Dr. Goswami's — Dental Orthodontic Braces Treatment Clinic in East Delhi welcome people looking for best price, affordable, budget and low cost orthodontic and braces treatment in Delhi – NCR – India.
Ask for free Braces Consultation….
Best price Lowest Cost Guaranty in Delhi NCR……
World class Treatment standards …. High quality Braces…..
All latest dental techniques and tools available with us………………
Get full mouth dental Braces in just One day — One Visit……
Why Braces Treatment at Delhi Dental Center ?
You will be

greeted and seen on time

. We know that your time is valuable and we care about our patients.
You will be

seen by the same dentist each month

who knows what was done in last visit and what is to be done next.
You will

get personal attention

for all your dental needs. We take enormous pride in the relationships we build with our patients and families.
We do not take short cuts when planning your treatment. We advise complete diagnostic tests (x-rays, digital/photos and impressions of the teeth) at your consultation when treatment is indicated. There is no substitute for having all the diagnostic information. A lack of information can lead to improper treatment.
You receive care in a

stable Dental practice

. The same Dentist, in the same location for more than 14 + years in practice
You receive

personalized appointment reminder

telephone calls.
Your treatment is "state of the art". Computer digital imaging, cavity fighting adhesives, modern sterilizers with routine monitoring of sterilization effectiveness, latex-free elastics, virtually invisible Clear Aligners that can straighten adult and mature teen smiles without traditional braces and space age low force/high comfort wires are all available

Working hours

from 9 a.m. to 1 p.m. and from 5 p.m. to 9 p.m. on all days   — Sundays Open from 9 a.m. to 1 p.m.
Appointments – The appointment time is flexible and we work all 7 days a week and we will give you your preferred time slot as per your preference.
For details and more information regarding treatment needs you can contact —
Dr. Amit Goswami & Dr. Vandana Goswami.
            DELHI DENTAL CENTER 
76,Radhey Puri, Extension – 1, Opp. Subway,
Near Jagat Puri red light — Preet Vihar Metro Station .
EAST – DELHI
DELHI – 110051.
# Delhi Dental Center is located near Preet Vihar Metro Station in East Delhi, where you can easily reached from Laxmi Nagar, Shakarpur, Mother Dairy, Patpadganj, Mayur Vihar, Dilshad Garden, Noida, Indirapuram, Vaishali and Ghaziabad.
PH.              —    0091 — 9968288257.
—     0091 — 9958236091.  ( whats app. )
–     0091–11-22544207  ,
Website    —    https://delhidentalcenter.com/metal-dental-braces-treatment-new-delhi-india
email I.D   —    delhidentalcenter@gmail.com